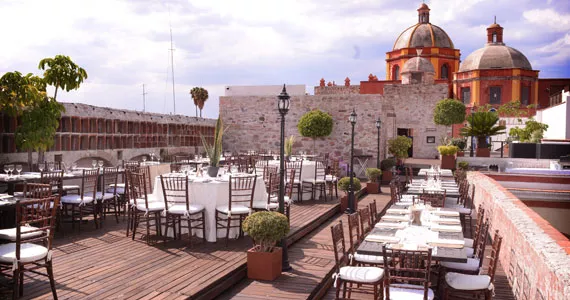 Wedding bliss at Casona de la Republica (Queretaro, Mexico), designed by The Wedding Vogue/Annie & Co.
What types of couples are best suited for a destination wedding? It's really popular when people aren't from town. Like in my case, I'm from Mexico and my husband is from here—it was tough to bring the two families together, so we decided to go to a medium point, the Riviera Maya in Mexico.
What are the biggest challenges people face while planning a destination wedding? Definitely finding the place. Not everyone can afford a destination wedding—some people want to have a destination wedding and then their guests can't afford the resort that they want, because some are really expensive. So you have to find a place you like but that works for everyone's budget. The biggest thing you have to accept is that not everyone that you love is going to be at your wedding. It is absolutely double the work of a regular wedding, you have to think of everyone.
How can you personalize the look of your wedding without having to lug a suitcase of decorations with you? It's kind of tricky. The best option would be hiring a local person to do the decorations. You'll spend the same money trying to buy stuff to bring. When you go down south it's cheaper than the prices we pay here for decorators. If you hire outside of the resort, it's cheaper. If you hire inside the resort it will cost you the exact same or more. But most of the resorts, if you don't hire their vendors, they'll charge you.
What would you biggest pieces of advice be for people planning a wedding away? The biggest advice I give to everybody is just be ready to have your bride or groom next to you. If you want to have everything perfect, it's not going to happen. If you want every person you want to invite with you, not all of them will be there. You have to be really relaxed. And just enjoy yourself with the person you are marrying. I even say that to people here in town. Destination weddings are fun, but its a vacation you're sharing with a lot of people. You have to be really relaxed because if you're going to be worried about everyone else, you won't enjoy your wedding. —interview by Allison Saunders
Karla Cordova is the owner of The Wedding Vogue, a Halifax company specializing in event coordination, wedding planning and decor. She has seven years' experience planning destination weddings. 14 Rosewood Court, Bedford, 902-835-1613