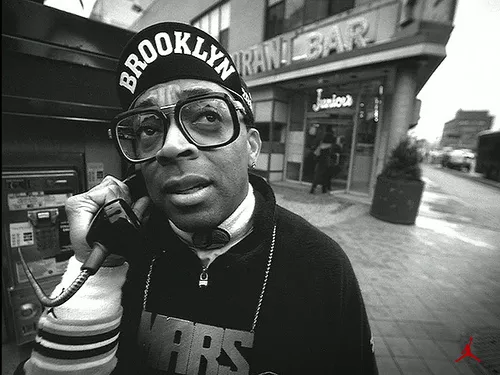 Image from NBA commercial
You used to call me on your payphone.
To celebrate
African Heritage Month
, three landmark films in black cinema will be screened at the
Dalhousie Art Gallery
(6101 University Avenue) in the
next two weeks
. Curated by filmmaker and film professor
Ron Foley Macdonald
, the series is free (!) and open to all.
Tuesday, February 2 (5pm)


She's Gotta Have It (1986)
Directed, produced and written by
Spike Lee,
this award-winning comedy-drama was his first feature-length motion picture, and in the New York
Times
' estimation it "
ushered in
" American indie film. It follows a modern young Brooklyn woman, Nola (
Tracy Camilla Johns
), as she's pursued by three men who want to put a ring on it. Via Nola, the film deals with independence, femininity and identity—both as a female love interest and as a black woman in America, and the inherent struggle of those themes.
Tuesday, February 9 (5pm)


Dear White People (2014)


In this
Sundance
award-winning film by
Justin Simien
, a preppy white guy describes lead character Sam (
Tessa Thompson
), a radio activist and writer who is attempting to undo the status quo, as the result of "Spike Lee and Oprah" having "some sort of pissed off baby." It's a relevant and witty satire on race, class and identity in America, in an upper-class setting and with comedic nuance. "There are some movies about race that don't tell the truth. They tell us what we already know," Simien
told Interview
. "I think art is much more valuable when it's honest."
Tuesday, February 16 (5pm)


Losing Ground (1982)


The first feature drama directed by a black woman (
Kathleen Collins
),
Losing Ground
"affects the familiar soul-searching feel of many modern indies," says
critic Jesse Cataldo
. "Race is never an overt narrative or interpersonal factor," Cataldo continues, which distinguishes this film in American cinema.
Losing Ground
is the story of a husband and wife dealing with a failing marriage, risky temptations (in the form of
Duane Jones
, later the hero in
Night of the Living Dead
) and heated struggles.