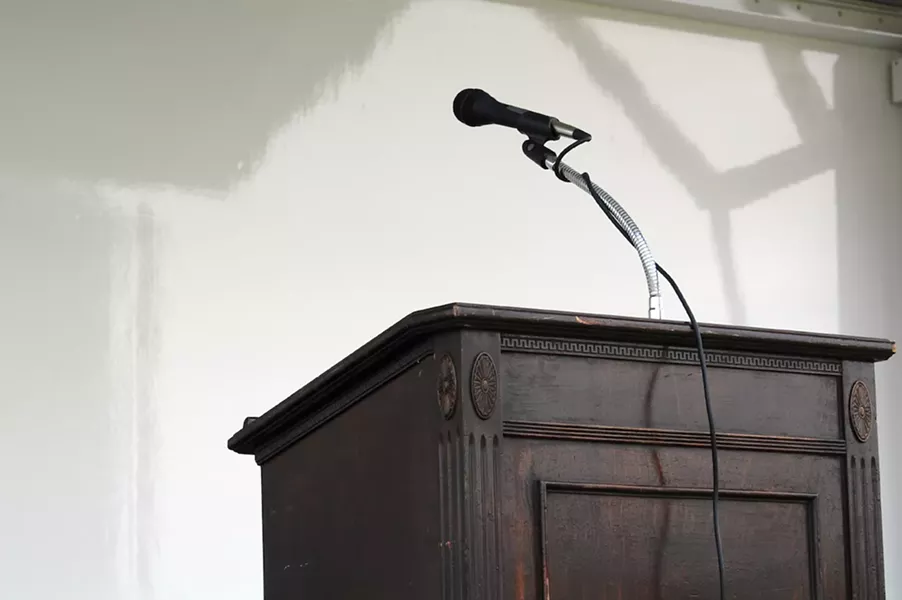 Empty podiums at empty tables.
When Canada's political leaders meet later tonight in Calgary to discuss the economy, Elizabeth May won't be in attendance. Stephen Harper, Justin Trudeau and Tom Mulcair will all be taking part this evening in the Globe and Mail's leaders debate, but no invitation was offered to the Green party. Just because May is leader of Canada's fourth-largest English-speaking political party doesn't mean she's guaranteed a podium.
Allan Bezanson, Marxist-Leninist candidate for the riding of Halifax, is familiar with this problem. Last week he attended the riding's first all-candidates debate, alongside incumbent Megan Leslie (NDP) and fellow challengers Andy Fillmore (Liberal) and Thomas Trappenberg (Green). Conservative candidate Irvine Carvery was invited, but busy. On Monday evening next week those political hopefuls will join with candidates from Dartmouth-Cole Harbour at the 'Federal Candidates Forum for Downtown.' Bezanson isn't invited.

Monday evening's forum, organized by the Halifax and Dartmouth business commissions, the Chamber of Commerce and Fusion Halifax, will let the candidates debate and discuss topics "important to urban centres."
Earlier this week Halifax downtown business commission executive director Paul MacKinnon confirmed on Twitter that Bezanson had not been invited to the event.
"We focused on the four [parties] that have seats in government currently," MacKinnon wrote on Twitter. "We had to do a cut-off somewhere."

"What is the issue?" Bezanson counters. "One more chair at the table?"
Besides the four major parties, Bezanson is the only other registered candidate running in Halifax. Still, odds are the Marxist-Leninist candidate isn't going to win come election day; but that's not the point. Debates are supposed to allow for the free-flowing of different political ideas, and not be in the business of determining who does or doesn't have a shot at being elected. At the very least, Bezanson's ideas on downtown development and urban revitalization would have stood out from his opponents.
"I understand bureaucracy and things like that, but I'm a legitimate candidate. I have the democratic right to appear."

The debates of 2015's federal election have been playing fast and loose with who's in attendance. There are no government regulations mandating all registered candidates have to be invited to a debate, nor anything saying a candidate has to take part just because they're invited. With several national debates being put on by a range of media organizations, who's attending what this fall has been stuck on shuffle. The official reason Elizabeth May wasn't invited to tonight's event, according to the Greens, was to facilitate a more focused debate.
"Whatever that means," says Julian Morelli, director of communications for the Green Party of Canada. "We reached out to [the Globe and Mail] privately many times, on several occasions to have them reconsider, to rethink it, and they kept going back to the same line."
May isn't letting a trivial matter like being in attendance stop her from participating in tonight's debate, however. The Green party leader will take part by way of Twitter—tweeting answers and short video messages in response to the statements of her opponents.

The Green's exclusion tonight is a reminder that Canada's fourth major English-speaking party is still considered by many to be a fringe voice. The NDP were, once upon a time, similarly shrugged off. Now they may form our next government.
"Every party has legitimate concerns, just the same as every citizen does, and they should all be heard," Bezanson says. "It shouldn't be a matter of who has the most money to throw at a campaign...let Canadians, let the electorate, make an educated decision."
Regardless of whether he's invited, Bezanson says he'll be heading to Neptune Theatre on Monday. That may or may not involve crashing the party.

"I haven't made a decision yet on whether I'm going to fight to have a place on that particular podium," he says. "If they don't let me speak I may go anyway and just raise a stink on the sidelines. Who knows."
There are still a few more debates planned for the Halifax riding before election day. The Canadian Association of Retired Persons is hosting an all-candidates debate at the Central Library on September 26 at 7pm. Nova Scotia chair Bill van Gorder says Bezanson and Conservative candidate Irvine Carvery aren't yet confirmed, but welcome to attend. Dalhousie University's Student Union will also be hosting a debate in the SUB on September 28 at 6pm. Communications and outreach manager Sarah Trower says the Conservatives originally declined to participate, but the student union remains hopeful the party will change its mind. Both Carvery and Bezanson told The Coast this week they plan to attend all scheduled debates if they can.
You can watch tonight's Globe and Mail debate streamed live on CPAC or the paper's website.