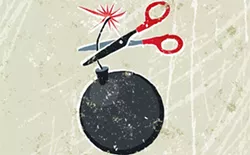 I
witnessed your hissy fit in front of a busload of passengers. I can't believe you would risk your child's safety and wellbeing by insisting he/she stay in that plastic car. The driver simply asked you to seat the child with you. You were rude, condescending and frankly abusive. The supervisor and driver were willing to continue downtown. Instead, you proceeded on a profanity laced tirade in front of your own and other kids—a busload of passengers.
Then you had to get abusive with the driver when you were called out on your reprehensible behaviour. What do think would've happened when you ordered him to drive? I would've walked off too, rather than endure your abuse. Any wonder the police finally escorted you off!
Here's a tip: You don't run things and no one owes you anything, you entitled snot. You're frankly an unfit mother and you set one hell of a poor example for your kids. If you don't like rules, then find your own way there. Just don't inflict your bullshit posturing on everybody else!
—Try 311 Next Time Instead Of Holding Everyone Up