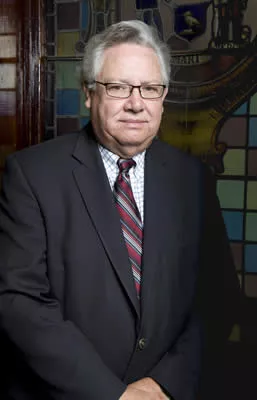 Halifax's acting chief administrative officer Wayne Anstey
City employees will be paid to "volunteer" at the 2011 Canada Games, which will be hosted in Halifax in February. As explained in an email sent Monday from acting CAO Wayne Anstey to staff, the city will match any leave or vacation time employees use to volunteer at the Games with an equal amount, up to five days, of "paid leave."
That arrangement angers councillor Gloria McCluskey. "If we have enough people to work somewhere else for two weeks, are we over-staffed?" asks McCluskey rhetorically. "And who's going to be doing the employees' jobs when they're over at the Games? Will we be racking up overtime for them to catch up on their work when they get back?"
McCluskey says Anstey claims the paid volunteer arrangement had been budgeted for, but she recalls nothing to that effect during budget discussions or debate. "I would've never agreed to it," she says. "If we have the money to pay people to volunteer, I'd like to see all the unemployed people be hired."
Canada Games needs between 5,000 and 5,200 volunteers, says spokesperson Andrea Young. "We're not in a situation where we're desperate, she says. "We're well on track; we've reached the 4,000 mark." But the organization recruits more than the number needed, because some who commit to volunteering don't follow through.
The organization has a number of volunteer recruitment drives in the works, says Young, including an October 2 volunteer fair at the Halifax Forum, and an on-going request that companies and governments urge their employees to get involved.
During the last Canada Games, which were split between the cities of Charlottetown and Summerside in 2009, the city governments did not pay volunteering employees, but the PEI provincial government did pay its employees to volunteer, says Young. But at the 2007 Games in Whitehorse, the Whitehorse city government did have such an arrangement, as did the city of Vancouver during this year's winter Olympics.
Young says her organization puts no expectations on any employer, and has no way of tracking how many city employees might be taking advantage of the paid leave offer. But an anonymous email received by The Coast suggests that the city aims to get between 400 and 500 city employees to volunteer. "That'd be great," says Young.
McCluskey, however, says that paying people to volunteer to work next to unpaid volunteers creates problems. "How are [the unpaid volunteers] going to feel?"
Mayor Peter Kelly did not immediately respond to a request to be interviewed for this story.