One of the most bizarre arguments in favour of the proposed convention centre is that it will increase tax revenues. "Generating perpetual tax revenue for the federal, provincial and municipal governments, a new convention centre will help fund valuable provincial infrastructure like roads, schools and hospitals," says an
online petition
, echoing sentiments expressed by any number of politicians, business groups and others in support of the proposal: building the convention centre will increase future tax revenues, is the line.
I say this argument is bizarre because even a cursory look at the expected tax costs and tax revenues shows that the convention is a net tax loss for governments---it's a huge money loser. None of the supporters have dared place costs and revenues side-by-side for simple comparison, perhaps because if they did, the truth would be glaringly obvious; instead they obfuscate, promising big future revenues for "roads, schools and hospitals," even though in actuality building the convention centre will result in less money for roads, schools and hospitals, not more.
To demonstrate my point, I'm going to use figures that are untrustworthy---I'm going to show in a future post exactly how and why these figures are untrustworthy---but for the sake of argument only, I'm taking the figures provided by Trade Centre Limited, the consultants hired by TCL and the provincial government. That is, I'm using numbers that convention centre supporters themselves rely on to make their case.
Let's start with the costs, which are spelled out on the TCL website: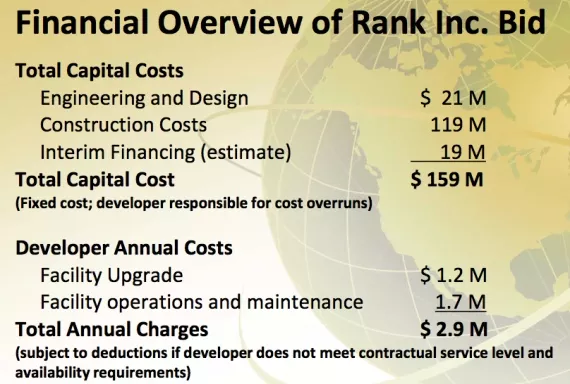 As infrastructure minister Bill Estabrooks explained when the bid was rolled out
earlier this month
, it is hoped that the federal government will contribute a one-time payment of $46.7 million. As for the remaining construction costs:
His department's breakdown calls for amortized payments of $10.4 million to cover the developer's construction costs, and then another $2.9 million to the developer for operations and upkeep of the three-storey facility. The proposal would have those costs split between the province and the city.
These are exact numbers. The city and province will collectively pay $10.4 million + $2.9 million, for a total of $13.3 million, or $6.65 million each annually, for 25 years.
Now let's look at expected tax revenues, and compare the revenues to these fixed costs.
The provincial tax hit
According to the 2010 Supplemental Gardner Pinfold Economic Impact Assessment, a document prepared for Trade Centre Limited and used by supporters to argue for the new convention centre, by year 10 of operation the expanded convention centre will generate (page 7) "$40 million in provincial total direct and spin-off taxes above the net present value of taxes generated associated with the current WTCC operating at the baseline level of events over the 10-year period."
That's an average increase of $4 million annually in provincial tax receipts, created by an annual expenditure of $6.65 million in provincial tax expenditures---a loss of $2.65 million each and every year.
Understand that the expected tax receipts number is the total tax receipt projection, from all direct, indirect and spinoff economic activity, all new income taxes and all new sales taxes---there's no "extra" not being counted. Also understand that I'm being extremely---overly so, really---generous, in that I'm not at all including the annual provincial subsidy for convention centre operations, which now floats anywhere between $1 million and $5 million annually, and will likely increase with a larger convention centre. So the $2.65 million annual loss to provincial tax coffers is an impossible best case scenario. Still, all the same, that's $2.65 million less annually going to "roads, schools and hospitals"---using numbers that convention centre supporters themselves use to sell the thing.
The city tax hit
Using the very same documents, we see that the tax hit to the city of Halifax is even greater. According to the 2009 Gardner Pinfold Environmental Impact Assessment, (pages 4 and 5):
Estimating property tax potential from this new facility is difficult to do in a theoretical way. To illustrate the scale of taxes, we have compared hotel properties and office buildings in the Central Business District. The Prince George Hotel generates almost $600,000 in annual property taxes. The convention hotel will be about double the size in terms of rooms with an estimated 400 rooms that will generate a higher average rate. This suggests the hotel portion could generate HRM in the order of $1.2 million in tax revenue.

The office tower component will also generate tax revenue. The larger office facilities in the Central Business District currently, such as Purdy's Wharf and Maritime Centre, generate between $1.2 and $1.5 million in taxes. The new office complex will have similar square footage and could be expected to generate at least this level of tax.

We estimate the convention facility itself will generate more than double the current Trade Centre, which pays about $600,000 in municipal taxes.

The new convention facility will generate additional business for downtown establishments. In turn, we expect this incremental commercial activity to improve the real estate value of properties in the vicinity of the new convention centre. Based on a review of assessment data in the area, bounded by Brunswick Barrington Blowers and Duke tax rate increases attributable to assessed values increasing by 10% and 25% respectively, would be in the order of $150,000 to $350,000.
Based on this report, the best case scenario is an increase in annual city tax revenue in the following amounts:
Hotel: $1.2 million
Office Tower: $1.5 million
Convention Centre: $600,000
Nearby increase in assessments: $350,000
Total: $3.65 million/per year.
That increase in city tax revenue of $3.65 million annually comes at a tax cost of $6.65 million annually, for a net loss of $3 million, each and every year for 25 years. That's $3 million that won't be spent on parks, on police, on fire protection, on road repair, on transit or on other needed municipal services.
Again, I'm being extremely generous in these calculations, because I didn't include the annual city subsidy (last year it was $570,000) of Trade Centre operations into the calculations and, with a larger convention centre, that number will likely increase. Neither did I touch on what will be a tremendous cost to the city: the purchase of the existing World Trade and Convention Centre and its conversion to city offices. Neither did I take out the tax receipts on the supposed office tower, even though I very much doubt that portion of the complex will ever be built.
Best use of tax dollars?
So, between the provincial tax loss of $2.65 million annually and the city tax loss of $3 million annually, we're talking about a total tax loss of $5.65 million each and every year for 25 years, leaving less money for other important and needed government services. And remember---I'm using Trade Centre Limited's own questionable numbers, and being extremely generous in every calculation. As we'll see in future posts, the true figure will likely be much, much greater. Maybe several times greater. Maybe even, I fear, an order of magnitude greater.
But taking the $5.65 million annual loss at face value, as the figure that convention centre supporters themselves are using, I can't help but ask: Is this the best we can do for downtown Halifax?
What else could we do with that kind of money? We could simply use it to reduce the commercial property tax rate downtown, making it more attractive for companies to place offices downtown and people to open businesses there. Or, we could use it for infrastructure improvements, building the parks and streetscapes called for by HRM By Design. Or, we could start a business incubation fund for new small businesses locating downtown. No doubt, readers will have their own suggestions.
But one thing is clear: Suggestions that the new convention centre will increase tax coffers could not be more wrong.