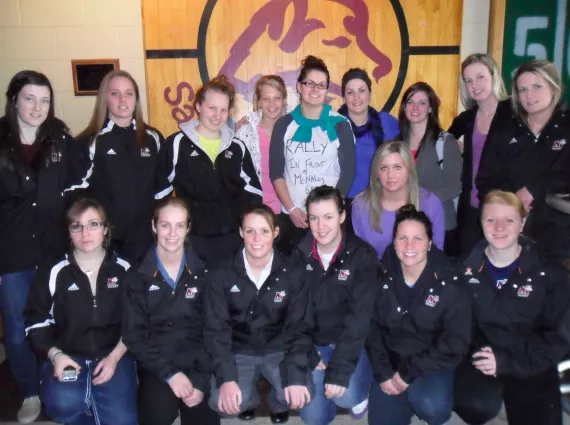 In an attempt to save $120,000, the athletic department at Saint Mary's University made an abrupt financial decision to cut the woman's hockey team last Friday, but then put that decision on hold in the face of protest.
The tipping point might have been the hundreds of supporters who showed up at a rally Monday night in hopes to reverse course. With the high attendance, the University's president Colin Dodd announced it was "pausing" its decision to cut woman's hockey. The school will be looking into other solutions.
Women's hockey assistant coach Brian Bradbury is one of the team's supporters. "I'm very disappointed in this decision. I don't think it's the right decision. I don't think it was done the right way," said Bradbury Monday.
In fact, Bradbury said cutting the team will have the financial hit fall back on the university. Saint Mary's students who attend, or wanted to attend, the university to play woman's hockey, will go elsewhere, said Bradbury. "Their tuition, plus their residence, plus their meal plans---now we're talking of a shortfall within the university of $200,000 to $225,000." Moving the problem from athletics to admissions will just create more financial issues, he said.
With only one year left before she can graduate, Kaitlyn Abbass isn't sure if other schools offer her program. "I may have to change into a program that's slightly different." But there is no guarantee it will accept all of her existing credits.
"It could end up taking me more than two years to finish my degree, and if that's the case, I'll be all out of eligibility and still be working on my undergrad," said Abbass. Jenna Currie has similar concerns. "Most schools [in the Atlantic Conference] don't offer criminology," but she said, "I would transfer."
Still, "I want to finish up my hockey career and honestly, I hope to do it here and finish as a Husky," said Currie.
Seyara Shwetz, who plays defense, said the thought of ending the team breaks her heart. "I travelled 5,000 kilometres to come here to play hockey, with [team coach] Lisa Jordan, at Saint Mary's University. And that's gone."
Although Shwetz has finished her term of eligibility, she hopes to see the woman's hockey team reinstated within the Huskies athletic department. "I've got two little sisters that are way better than me at hockey, and the only person I wanted coaching them and influencing their hockey career, is Lisa Jordan."
"They called it a four percent cut back on the entire athletic department, so why is the entire burden falling on the woman's hockey team?" asked Courtney Schriver, way plays centre.
Schriver grew up playing men's hockey because there were no female teams. "I just don't see people letting this go," she said. "Female hockey has absolutely boomed here in Halifax and it's amazing to see, and there is no way that we can put a stop to that," said Schriver.