Earlier this week, I wrote a
blog post
criticizing city council's decision to spend $145,000 in support of the O'Neill Cold Water Classic surf competition. Since then, I've learned more about the event, and more reasons why citizens should be even more concerned by the expenditure.
Canadian Surfing Association has no legal standing
First is the fact the Canadian Surfing Association, the non-profit corporation that the city granted the money to, does not legally exist.
The Registry of Joint Stocks has the following information for the CSA: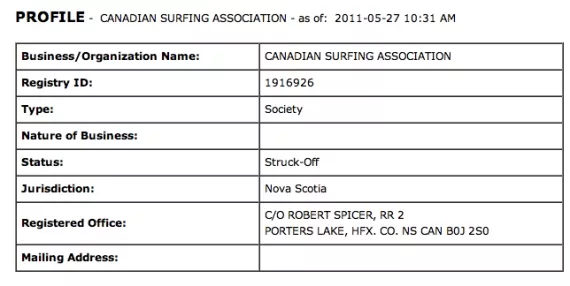 As shown, the Canadian Surfing Association was formed in 1989, but defaulted on registration fees in 1995. Joint Stocks sent CSA two notices of strike-off in 2006, which were not responded to, and so in 2007 the CSA was stricken off the registry.
Is this a problem? Should the city be giving hundreds of thousands of dollars to an entity that has no legal existence? Does it violate city policy and procedures? Who the hell knows?
Well, city staffer Andrew Whittemore knows, but city staffer Andrew Whittemore is out of the office all day, and rarely returns my phone calls in any event, so I guess it'll remain a mystery (just like my other question to city staffer Andrew Whittemore, about who knew about the abysmally low concert attendance figures).
I don't know if the city can give money to a non-profit organization that legally doesn't exist or not. But I would suggest it might not be the most prudent thing to do. I mean, if the city was concerned about things like financial controls and so forth.
Just a thought.
Public intoxication and indecency charges
The second area of concern involves the behaviour of the international surfing stars who will be coming to town. I'm told they're a privileged, self-centered lot, and at best "rowdy." It's hard to give credence to these sorts of opinions, but the city of Tofino's experience might give us some pause. Recall that Tofino, British Columbia, the previous host city for the O'Neill Cold Water Classic, passed on continuing to sponsor the event after last year's event.
Tofino's decision might be related to an incident last fall, when Australian surfer Mitch Coleborn was arrested. As ESPN reported:
Australian surfer Mitch Coleborn was arrested Friday in Tofino, on Canada's Vancouver Island, where he was competing in O'Neill's Coldwater Classic series.

According to reports on news.com.au, the 23-year-old exposed himself in front of a group of kids and adults near an elementary school around 8:40 a.m. last Friday. Reports suggest alcohol was involved in the lead up to the offense. Royal Canadian Mounted Police sergeant Jeff Preston told ESPN that Coleborn was charged with indecent exposure.

If convicted, Coleborn could face severe visa penalties, which would limit where in the world he could travel to compete in surf contests. The U.S. could be among his restricted countries.

Coleborn also faces the prospect of his name being placed on Canada's national sex offender's registry.

"He is alleged to have exposed his genitals in a public place to people, including several children," sergeant Preston told news.com.au. "Alcohol was definitely a factor."
Those are pretty alarming allegations, but of course people are innocent until proven guilty. And, it turns out that the charges against Coleborn were dropped this past March. As the
CP reported
:
TOFINO, B.C. — An indecency charge has been dropped against a world-class Australian surfer who was accused of exposing himself following a competition in Tofino, B.C.

Mitch Coleborn was in the Vancouver Island town last October for the O'Neill Cold Water Classic when police picked him up after receiving several complaints.

Coleborn was to have appeared in court this week, but Tofino RCMP Sgt. Jeff Preston said the case won't proceed against the 24-year-old.

Preston, who was involved in the man's arrest at the time, said "alcohol was certainly a factor" in the incident.

"I received several complaints of a male who was exposing himself to people as they walked by," he said.

Neil MacKenzie, with the B.C. Crown prosecutor's office, confirmed the Crown directed a stay of proceedings against the man.

"Due to the level of intoxication, we wouldn't be able to prove that the act that was alleged was a wilful act," he said.
Is "Buddy was too drunk to be held responsible for exposing himself to kids"
really
a reason to drop charges? This is interesting: I wonder if the argument would hold for, say, beating your wife. "Sorry, judge, I was too drunk for that bit of ugliness to be a willful act." Getting shit-faced drunk is, ironically, the ultimate Get Out of Jail card. [Note: I am not lawyer.]
MacKenzie is on vacation, but today I talked with Robin Baird, also a lawyer with the BC Attorney General's office.
"Drunkenness as a defence comes up when somebody's so drunk that the court finds he's incapable of forming the specific intent to do something," says Baird.
Would that argument work for a drunk driving charge?
"No, self-induced intoxication on a drunk driving charge is not a defence in any circumstance. It depends on the nature of the crime; there are things in law called general intent offences and specific intent offences, and drunkenness comes into play on specific intent. It has to do with the provable mental element in respect to a given charge."
Well, like I said, I'm no lawyer, but it sounds to me that our surfing visitors are welcome to come here and drink themselves silly, expose themselves to kiddies willy-nilly, so to speak, and the surfers are fine so far as the law goes, so long as they don't then drive back to their hotels.
Money, money
Third, the official reason Tofino gave up the O'Neill event is that O'Neill simply wanted too much money. Tourism Tofino reps have not yet returned my calls today, but an April article by reporter Julia Prinselaar in the Westerly News spells it out on April 26, 2011:
The O'Neill Coldwater Classic surf competition approached Tourism Tofino about three weeks ago asking for financial assistance beyond the $55,000 that was budgeted for promoting this year's event, according to Lynda Kaye, public relations for Tourism Tofino.

"Tourism Tofino is not in a position to fund or assist the competition financially over and above what's already been budgeted," said Kaye. O'Neill is looking for additional funding of around $175,000 to $200,000 USD to hold the event in Tofino, its only Canadian destination.

[...]

"We'll act quite quickly on building on a fall campaign that has that as part of its plan." The O'Neill Coldwater Classic came to Tofino last September, and while it did generate awareness about Tofino, Kaye forecasts that the absence of the competition this year won't deal a heavy economic blow to the district.

"Frankly I think it was a fabulous awareness generator...but I'm not sure that we can point any specific positive economic impact that the competition made toward the community. It's not really a spectator sport in any of the locations," said Kaye.
O'Neill's initial request to HRM was for $200,000, the amount that had been asked of Tofino. HRM's Special Events Advisory Committee was approached about financing the event at its
March 11, 2011
meeting----a month before Tofino rejected O'Neill---so it's pretty obvious the company was playing the two cities against each other.
I know I'm going on forever here, but the O'Neill Cold Water Classic represents exactly what's wrong with how the city doles out money. As the auditor general's report showed, nobody much is interested in tracking how or where the money is going, and it appears that no one did basic internet research to see if the organization being given money even exists, or if there were problems with the event in other places. The city just throws hundreds of thousands of dollars this way and that, so it's no wonder we end up with things like the concert loan scandal.