Update: Around noon at a press conference in Dartmouth, Tom Martin doffed his metaphorical hat and threw it into the ring. His campaign slogan: Ask for more.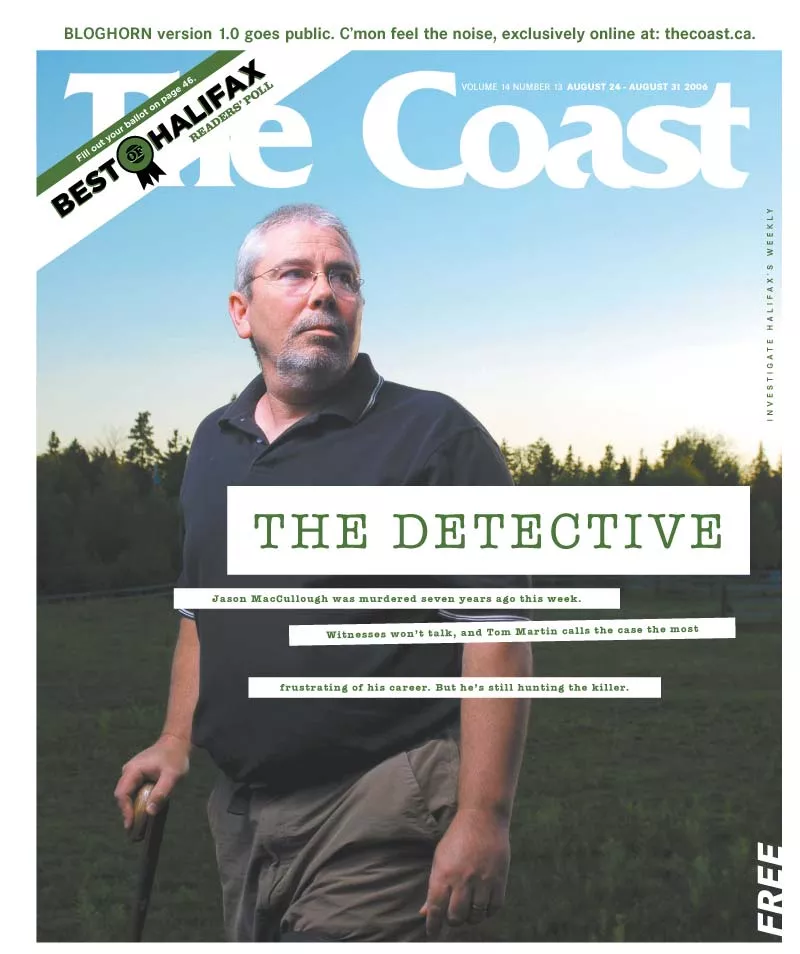 The August 24, 2006 cover featuring detective, and Halifax mayor candidate, Tom Martin.
With a bit more than a year to go until next October's city election, today might bring us the first officially declared challenger to current mayor Peter Kelly. The
Herald
is
reporting
that former police detective Tom Martin will announce that he's running. Coast readers will recognize Martin's name from a pair of excellent cover stories, one from 2006, the other from 2009, both written by Stephen Kimber.
"The last best hope"
looks at what drives Martin to work on solving cases that everybody else has given up on, such as the William Shrubsall sexual assaults.
Discovering Shrubsall's identity, however, was only the beginning of what turned into an all-consuming three-year investigation that would take Martin to Niagara Falls twice and also to Philadelphia, where Shrubsall went to university, interviewing and re-interviewing neighbours, ex-girlfriends and even the pawn shop owner to whom Shrubsall had sold his valedictory medal. Along the way, Martin filled 25 banker's boxes worth of notes, statements, videos and other assorted evidence. When it was over, Shrubsall had not only been convicted of assaulting and robbing Donnison and sexually assaulting three other Halifax women, but he'd also—thanks largely to Martin's dogged detective work—been officially labelled a "dangerous offender" and sentenced to prison for an indefinite period. Martin's work on Shrubsall was only one of the reasons he was nominated by his fellow officers as top cop for 2001. That same year, he'd also helped make arrests in two murders, an attempted murder and a kidnapping.
The other feature,
"Dead wrong,"
focuses on the reasons behind Halifax's high rate of unsolved murders. Kimber starts the story at the moment in 2005 when police brass---to Martin's considerable distress---pulled the plug on efforts to get Jason MacCullough's killer.
Tom Martin looked around the room. There was disbelief, anger. The other cops knew this was bullshit. Still, there was no point in confronting their staff sergeant. The message had come from two floors above, from deputy chief Chris McNeil, a man who'd never run a murder investigation. We're done here... "You're making a mistake." Martin tried to keep his voice neutral. He knew he had a reputation for being one of management's "biggest pains in the ass." He preferred to see himself as a guy "who wasn't afraid to piss off the bosses" in the interests of solving his case. Now, he stood just inside the door of McNeil's office and tried to explain why the deputy chief shouldn't do what he'd already done. McNeil wasn't listening. He just stared at his computer screen while Martin made the case for continuing the task force. McNeil didn't look up. All he said was, "It's done." The task force was disbanded. Two weeks later, Martin suffered his first heart attack. He was never able to return to work. In 2008, he officially retired from the force.
Martin ran councillor Sheila Fougere's unsuccessful bid to unseat Kelly last election, so has some campaign experience to go with his obvious policing cred. "Fougere, who has known Martin since she was five years old, said her best advice is to buy a comfortable pair of shoes," says the
Herald
. Anyone else who wants to challenge Kelly is advised to bring Martin-grade knowledge of the city, from gritty streets to thick bureaucracy.