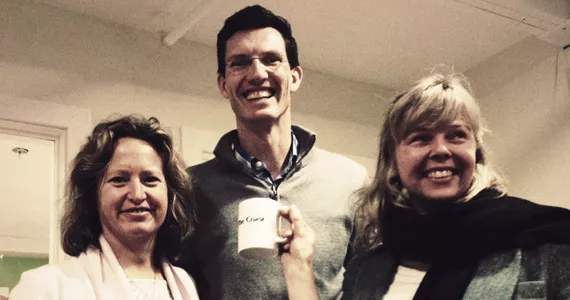 Cathy Salisbury, Kyle Shaw, Christine Oreskovich
In 1996, three years after its launch, The Coast was a bi-weekly paper without a staff. Most of the founders had departed Halifax for jobs that paid a salary, leaving just myself and Christine Oreskovich from the original group of six. Figuring it would be good to get advice from our alternative publishing peers, we invited people from every alt-weekly in Canada to a meeting in Halifax, and the only person who came was the Montreal Mirror's publisher and co-founder Catherine Salisbury. But she was the best one. The three of us hit it off so well that Cathy invested in The Coast to become our business partner.
Now The Coast is 20 years old, and Cathy's 17-year guidance has transformed the paper (and thus, some say, the city). But after 28 years in alternative publishing between Montreal and Halifax, Cathy wanted to get out from behind the spreadsheets and into the ocean to focus on her other passion as an underwater photographer. It was time to make a switch. As of last Friday The Coast changed hands, Cathy leaving the business and Christine and I taking sole ownership. Not much else has changed---Cathy is even staying on as a consultant---but still we wanted to share this news with you. We're sure this is the start of a great future together.