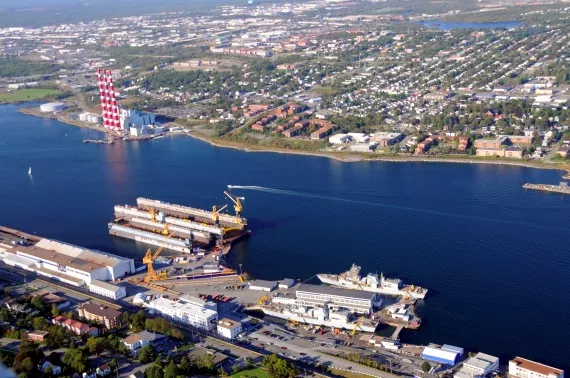 Last week 23 people were laid off at the Irving-owned Halifax Shipyard. Seven were re-hired immediately after. This week several more were left without work—though again the company opened its doors shortly afterward.
"Ship repair and ship construction is always like this," says Cliff Pickrem. He's president of Unifor Local 1, the union that represents workers at the Irving Shipyard. "We're very accepting of it."
But both Pickrem and the company are optimistic the tradition of unpredictable work will soon be at an end. Irving is set to recall at least 120 workers over the next few weeks since recently receiving HMCS Ville de Quebec for refitting. Not only that, but with construction of the first naval vessels set to start in 2015 thanks to the famed $25 billion shipbuilding contract awarded to Irving in 2011, they hope to see the demand for workers stabilize.
"We adjust our workforce every week. We've done that for decades," says Irving spokesperson Deborah Page. Current practice in the industry is to re-evaluate on a weekly basis how many workers are needed to complete the projects in the company's roster. That means unpredictable layoffs and rehiring is the norm for workers, who can find themselves without a paycheque from one day to the next.
Irving was so aggressive in obtaining the naval shipbuilding contract precisely in order to create regular work, says Page, rather than relying on unpredictable smaller and shorter projects. The goal is "to try to get away from that boom-and-bust cycle," she says.
The union agrees. "The amount of work should be a constant number and something you can plan for," says Pickrem. "Here we have been awarded the potential to build the Canadian defence vessels. Hopefully this will level off our employment. This is the goal that we're all after, to stop that ebb and flow."
Matthew McPherson is a private management consultant who served for 10 years as director of labour relations for construction in Nova Scotia. This type of firing and re-hiring is common in all construction and manufacturing, he says. "The layoff-recall issue has to do, in my experience, with the private sector." According to him, it does not negatively effect relations between companies and their respective unions.
"When the work isn't there, people get laid off," he says. "Unions understand how businesses work."
When a worker is laid off Irving says it does provide resources to help find other employment, either with their suppliers or other organizations that require the same types of tradespeople. However, nothing is guaranteed. When Irving does need to fill jobs, they place priority on recalling workers with the most seniority.
"We look to get those people back as soon as possible," says Page. "These are the folks who are going to build our navy's ships."