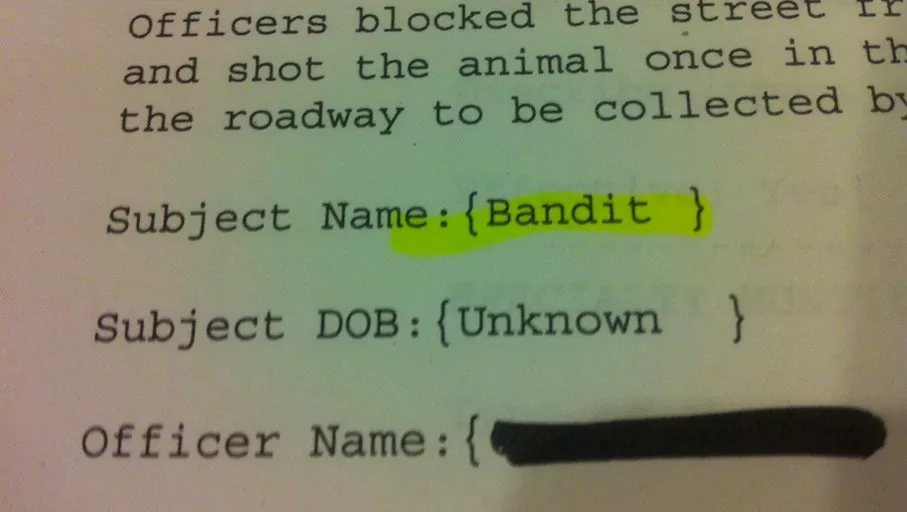 A bit of raccoon levity to brighten up bureaucratic paperwork.

Amongst the many outrageous stories breaking around Ferguson last summer was the news that no public database of police shootings exists in the United States. No one is was keeping track of how many Americans are shot by police. Which got us wondering how trigger happy Halifax's police officers are.
Police shooting and killing someone tends be pretty big news around here. But we wondered how many times in total a firearm has been drawn and fired by an officer. How many accidental gunshots were there? Do police issue warning shots? We didn't know, but wanted to find out. The police department (through freedom of information laws) kindly provided us with a nearly-complete list of reports detailing every time a firearm was discharged from 2011 to 2014.
It turns out deer have a lot more to worry about than people when it comes to being shot by Halifax police.
Over the last three years, the cops fired their guns 55 times to euthanize 26 injured deer. According to the reports, almost all of those were animals left crippled and panicked from motor vehicle collisions.
"The deer was approximately a 180 lbs 4 point buck," one officer wrote in 2011 about a collision on Burnside Drive. "The animal was conscious and breathing, however, had a large lump at his hind quarters near his spine. This along with the animal not being able to place his back legs underneath, in my experience as a hunter, led me to believed [sic] the animal had suffered a critical injury to it's [sic] back."
In another 2011 case, a deer ran out onto the MacKay Bridge ramp and was struck by a police wagon transporting prisoners. The animal was put down with five rounds.
Some of the reports are more detailed—and graphic—than others. Almost all include acknowledgements of the animal's pain, potential risk to the public from ricochets and the "back drop" behind the animal that should safely absorb any rounds.
There are only three cases where firearms are used against human beings since 2011. All of those individuals are still pending prosecution, so those incident reports weren't included in the documents we received (in accordance with the Municipal Government Act).
Three raccoons were shot by police between 2011 and 2012. They were all severely injured animals shot in the head by responding officers.
One pit bull was shot by police who were investigating a break and enter in Dartmouth last year. An officer surveilling a suspect's house on Portland Street had left their car to try and determine if the home had a back door. While walking back across the road, two dogs "that appeared to be pit bulls" came from behind the house running down the driveway towards the officer.

"The dogs were charging in my direction barking loudly and appeared to be viscous [sic]."
The officer drew their firearm and discharged three rounds at the lead animal. Both dogs turned back and ran away after the gun went off. They were within 10 metres of the officer at the time of shooting. The report notes that at no point was anyone calling for the dogs to return or chasing the dogs to control them.

The injured animal was taken to a vet, while six men and two women at the scene were arrested.