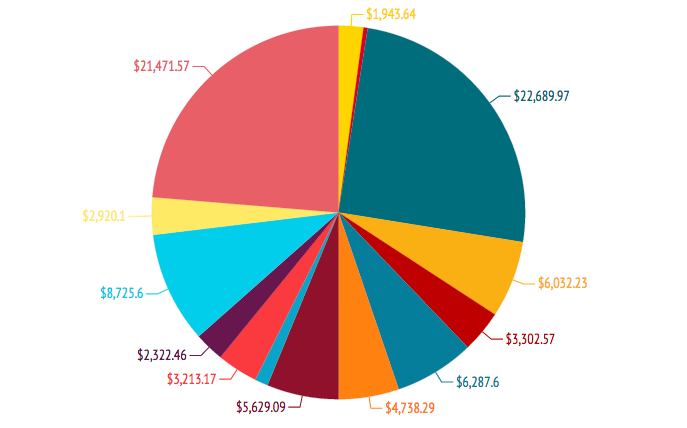 A month after the city's auditor general presented a compliance review of expenses for city councillors and staff, The Coast finally got a copy of all those travel claims.
Local travel is broken down by financial years, but we've only counted expenses since the November 2012 election (when several new councillors took office). Unsurprisingly, the councillors with the most local travel also had the largest geographic areas to cover.

Preston-Chezzetcook-Eastern Shore's David Hendsbee logged nearly 24,000 kilometres over the last 12 months, claiming $10,643 in local travel expenses. Waverley-Fall River-Musquodoboit Valley's Barry Dalrymple had nearly 17,000 kilometres in 2014/15, and claimed almost $8,000. Hammonds Plains-St. Margarets's Matt Whitman had close to 16,000 kilometres travelled last year, claiming $7,400.


Councillors Russell Walker, Gloria McCluskey, Stephen Adams and Tim Outhit all claimed no local travel expenses.


"It's not worth the aggravation," says Outhit, about both the paperwork and public scrutiny.

Although Stephen Adams represents one of HRM's larger districts, he too doesn't claim any travel expenses.

"Too much paperwork," says the Spryfield-Sambro Loop-Prospect Road councillor. "I never have and never will."
Adams, along with Outhit and Brad Johns, are also the only councillors not to file any out-of-town travel expenses from the last three years.
Aside from those three, David Hendsbee has the least spent on out-of-town travel. He expensed a $328 road trip and one-night stay at Liscombe Lodge in 2014 for attending the Eastern Shore Fishermen's Protective Association's annual meeting.

Former deputy mayor Bill Karsten logged the highest out of town travel, claiming $22,689.97 over the last three fiscal years. That's roughly $1,000 more than mayor Mike Savage. The vast majority of Karsten's trips were attending conferences for the Federation of Canadian Municipalities, where he sits as board member.
Closer to home, the city's documents also include a breakdown of expenses for bridge tolls, paid parking and taxis used by councillors. Those numbers vary quite a bit more. Lorelei Nicoll, for example, claimed $100 last year and nothing the two years prior. In this category, it's Halifax South Downtown councillor Waye Mason who's claimed the most ($1,577 on taxis over the last three years).
"Of course, but that's all I do," says Mason about his cab rides. "I can walk to work. We only have one car. My wife let's me have it sometimes. Because I so rarely use the car for work, I don't even know how to do the form for that, to be totally honest."
There's often public outrage from elected officials spending any amount of money, but keep in mind the auditor general's office found no major misuse of funds. Just some minor accountability loopholes that are nevertheless embarrassing.
Larry Munroe and his team noted several inconsistencies, some of which had previously been identified but remain open. They include inconsistent application of the mileage grid used for travel, instances of formal approval not being received prior to out-of-town travel, purchases made which aren't supported by adequate documentation and instances where reimbursements weren't mathematically inaccurate. 


 "As a result of our procedures, the OAG has concluded HRM has not made significant progress on the recommendations in the previous review of expenses," the OAG writes in its report.
Councillors can expense for local as well as out-of-town travel. Mileage is reimbursed for the councillors' commute, but the policies around that travel remain outdated. Forms don't indicate where the claimant is travelling to or from, making it impossible to determine their reasonableness. There also appears to be some "estimation of mileage," according to the auditor general's office. Munroe's team found Google Maps trips mildly inconsistent with some of the rounded numbers claimed in expenses.
Also, the current policy doesn't specify anything about councillors claiming mileage from their personal homes. Since some councillors declare their home as a place of work, they're eligible for reimbursement. The ambiguous policies mean some councillors claim those trips and others don't.
Thankfully, Halifax isn't the Senate—or even the Legislature—when it comes to expense claims. For the most part, city councillors travelling outside of Halifax were attending Federation of Canadian Municipalities conferences or other business outings. Still, it's fun seeing who spent what.
Below you can read all the documents HRM scraped together for The Coast, including more details like which hotels councillors stayed at, how many dinners they expensed and other nosey information that's officially open data and entirely the public's right to know.
———