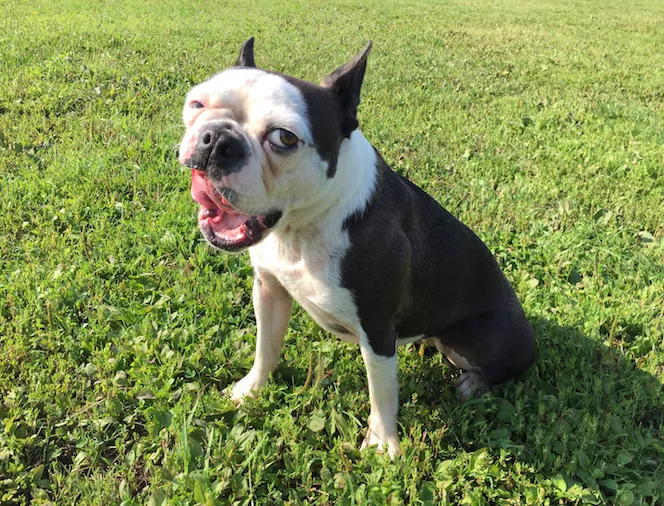 Beans, The Coast office mascot and embodiment of #beanyonce, turns 2 in human years, 14 in dog years, today.
1
Because nothing is real unless there's a parody Twitter account for it, someone with too much time has created "MoronsOf PeggysCove." The account presumably is to increase public safety awareness (provided tourists are checking local tweets) by shaming people through snide jabs about Darwinism. For more on Ricky Gervais' comedy, click here.
2
Nova Scotian man goes on five-day vacation to North Korea. Stephen Harper would be furious.
3
Canada Post workers are demoralized as nearly 13,000 homes in Halifax switch over to community mailboxes. Union leaders tell Stephanie Taylor over at Metro that 227 local jobs could be lost. Meanwhile, a new string of community mailboxes on a dangerous section of Meadowlark Crescent has residents fearing for the worst, while Montreal mayor Denis Coderre used a fudging jackhammer to rip up some community mailboxes he didn't want on his streets.
4
Locking dogs in hot cars is cooling down thanks to Mic Mac Mall's pet patrol. Incidents of hot cars featuring a dog locked inside them are down 90 percent this summer, according to Metro. "People are finally understanding that parking lots are no place for pets," says the mall's marketing director, Rebecca Logan. Maybe not parking lots, but what about barking lots?
5
If you're the type of person who can go weeks on end without turning your oven on, this one's for you. (Also, if you just really like good meals, read on.) Da Maurizio's Andrew and Tanya King have teamed up with tech wizards Andy Hay and Will Nelson to present Sauté, a healthy, fresh, meal subscription service. Chef-inspired/made lunches and dinners—and the luxury of a little extra time— could be on your doorstep, or your office's doorstep, starting August 24.
6
It's National Rum Week, and apparently Nova Scotians Haligonians drink 35 percent more rum per capita than the average Canadian city. If that's not an excuse to branch out from your usual Appleton and Coke, I don't know what is. From now through Saturday, Halifax bars Lot Six, Lion & Bright, The Bicycle Thief and the Stubborn Goat will be mixing up rum specials to celebrate.
7
And a little nugget for your listening pleasure. The friendly and ambient dudes of In Flight Safety have recently announced both a new EP and a couple of wee tours by dropping a brand new single, "Stockholm". And now we're dropping it in your laps/ear buds. Listen here.
+2 Sure Things
This is just the sort of brilliantly sunny day that calls for a walk downtown to check out the Celebrate Halifax photo show. Peggy Cameron's look at the city's parking lots is so cheeky it's actually installed at a parking lot.
For more walking enjoyment consider tonight's edition of the Ghosts of the North End tour. And if you think this weather is actually too hot to be outside in, just remember the Ghost of Winter Past and enjoy a stroll while you can—our sidewalks will be impassably ice-clogged before you know it.
In honour of National Rum Week, here's Shane Beehan mixing up his own Navy Grog.