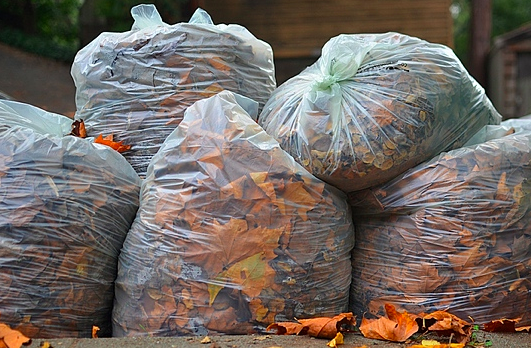 Paper or plastic? Doesn't matter, because you can now cram your lawn junk into either.


Effective immediately, the Halifax Regional Municipality is advising residents that curb-side collection of excess leaf and yard waste will be accepted in clear and orange plastic bags, along with large paper bags.
Under the new garbage collection laws which came into effect in August, leaf and yard waste not put into green bins was to be placed in Kraft paper bags. Those program changes have been "so successful," according to an HRM press release, "that local retailers have been unable to keep up with high demand for the large paper bags."
Yesterday, Emma Meldrum at King's journalism website SignalHFX broke the news to the city that local hardware store were running short on the paper leaf bags.

"An employee at the Chain Lake Costco said the store ran out of bags a week ago. She said that they are not expecting another shipment—but that may change as more and more customers come looking for leaf bags."
Meldrum writes that spokesperson Jennifer Stairs was unaware of the shortage until the Signal brought it up. CBC and Paul Palmeter also wrote about rejection stickers on clear garbage bags filled with yard waste. And now HRM has loosened the restrictions—at least for this year.

"The municipality will reintroduce the requirement to use only large paper bags for excess leaf and yard waste in the spring 2016," spokesperson Tiffany Chase writes. "This will allow more time for our retailers to ensure they can maintain an adequate supply of bags for sale throughout the region."

Unfortunately the change comes about too late in the season for the best possibly use of orange plastic waste bags: scary Halloween decorations.