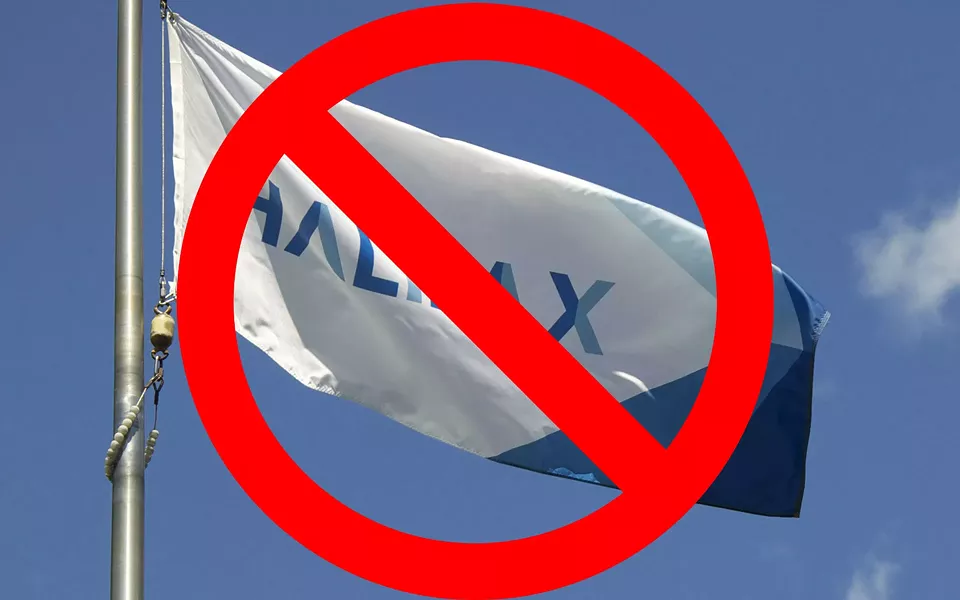 Having solved Twitter and given royal assent to donairs, HRM Regional Council will now turn its attention to scrubbing HΛLIFΛX off of Dartmouth.
Next week councillors will discuss a recommendation from the Harbour East-Marine Drive community council to look at removing the Halifax logo and brand from "all community signs, landmarks and flagpoles" across the harbour.
The motion—which will be debated but isn't yet approved—asks for a staff report to identify the financial implications of covering up or removing the offensive branding. Bringing it to regional council was a decision unanimously approved at a February 4 HEMDCC meeting by councillors David Hendsbee, Lorelei Nicoll, Bill Karsten, Tony Mancini and Gloria McCluskey (who "spoke to her love for the community of Dartmouth" at the meeting).

This is the latest and most official salvo in the Halifax/Dartmouth civil war that was temporarily halted by amalgamation and then viciously reignited in 2014 when HRM boldly decided to save money on ink by no longer crossing its A's.
Coalition to Promote Harbour East Marine Drive Communities spokesperson and anti-branding fan Warren Wesson has claimed "90 percent of people are opposed" to the Halifax branding (according to the group's online survey efforts).
Meanwhile, there are no current plans to cover up or remove all the other offensive brands and logos pockmarking Halifax (and Dartmouth).