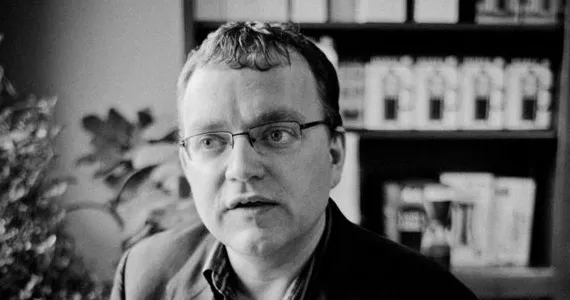 Mason, councillor for District 7: Halifax South Downtown.
In this week's cover story, The Coast looks at whether HRM needs a lobbyist registry to curb conflicts of interest. Municipal registries documenting when consultants and developers meet with councillors are on the rise across Canada, but there are arguments for and against one being installed in Halifax.

Waye Mason, councillor for the downtown district experiencing a lot of HRM's urban development, chimed in that we were "dead right" about this issue. I spoke with Mason yesterday about his experiences with lobbyists, which are presented below (edited for clarity and length).
———
How often are you approached by either consultants, property developers or people looking to talk about a proposal coming up?
All the time. Probably, I don't know, four, five times a week. I take the meetings and in fact you can see on my public calendar they're all there. What I do, and maybe I'm breaking protection of privacy laws, but if someone representing a business is meeting with me, I put that on the public calendar. If I'm meeting with a constituent, I just put "Meeting with a constituent" on the calendar. That's our job, right? We don't just meet with residents and we don't just meet with government folks. We meet with business people all the time.
What's the purpose? What do they tend to ask? Well often they want to explain a project they're doing. Sometimes when they're thinking of doing something they'll often come to us before they even make an application and kind of see how you, as the area councillor representative, feel about it. That's often a good thing, because I have had developers change their plans dramatically because I'm like, 'Oh no, that will never fly. Oh, please don't do that.' That can be a real valuable time saver; saving the community the wasted time about being all engaged with a project they're really unhappy with, and the developer spending a bunch of money on something that's going to upset the community and might not pass.
A good example of this—and I believe this is on my calendar right now from two months ago—is I met with Danny Chedrawe, four or five days after he closed on buying Ben's Bread. We basically laid out what we'd like to see happen in terms of public engagement. That is a useful thing. I think we should be doing that. I just don't know it should be secret.

That feels more like you acting as an intermediary on behalf of the public. Maybe it's the same thing in a certain respect, but are they coming to you to influence?
Oh yeah, I was asked to intervene for a business. They don't like some billing stuff. I kind of tried to put it in context for them to understand why I thought it was right. But the same person cornered me at a public event the other day and said 'I still want that change.' Then today, an arm's length agency approached me on their behalf to try and convince me. That kind of stuff does happen. Businesses and community groups and organizations and unions definitely are lobbying councillors directly, just like any other level of government. I would say the International Association of Firefighters was obviously aggressively lobbying. I would say that the Canadian Taxpayers (Federation), the CFIB aggressively lobby and I would say that Our HRM Alliance aggressively lobbies. All for totally different things. 
———
"I do know a lot of business people have been really surprised when I won't let them pay for my lunch. Maybe that's a small thing, but to me that's important."

———

Does that have a direct impact on decisions being made by council?
Well, yes and no. Sometimes, the public doesn't think that council should do what staff wants to do. The main way that is expressed to us is through citizens, organizations and businesses lobbying us. And sometimes they are right. There have been situations where I feel like the staff report was limited or didn't look at the full context. There's a useful function there, but to my mind people should know who is being paid money to come to us to change policy. The public should know who's lobbying for that, because there's a lot of money on the table. Not all of this is important. I would like to bring in the best minds—I don't know who'd want to volunteer or be paid to do this after the salary thing—but we have some people who really understand this stuff. We don't have a mail log for councillors. We don't have a gift registry for councillors. I don't know what other councillors' practices are. I haven't asked. I do know a lot of business people have been really surprised when I won't let them pay for my lunch. Maybe that's a small thing, but to me that's important. I'm not saying any of this is happening and probably, really, what's going on in Halifax government is fundamentally small potatoes and it's probably paying for green fees and having lunch after playing golf together more than it is flying you and your family to Disney on a vacation. But if those doubts are in the public's mind, and I think they are in the public's mind, then you should address them. If nothing's going wrong, and we can do some kind of reasonable, low-cost thing—like you were saying a software solution, have a database or just make it automatic that all of our calendars and all of our expenses are posted online every month. All of that goes towards transparency and trust. I think we've done a lot of really good work in the last three-and-a-half years and I think anything we can do to help raise the level of confidence in HRM's government. I think it's valuable.

What about the idea that Halifax isn't a big enough city to worry about lobbying?
Well, you scale the response to what's appropriate. I think we have a history of concerns, and I think that you see us respond to that in some things. This fairness auditor proposal that we've gone ahead with for Cogswell; that's to make sure that nobody can try and politicize the procurement process. I think the point is well taken that it could become extremely bureaucratic and expensive. For me, to be entirely candid, the reason I haven't pushed on a lobbyist registry, lobbying rules is we're still trying to get campaign finance reform. One thing at a time. I think that campaign finance reform is actually more important. If you could only have one, it's the most important one. The rumour I'm hearing is the province is going to move that forward in the spring session and that would be amazing. The question then is will council rise to the occasion and put that in place before the election and I hope we do. Once that's behind us, I think the next phase would be to start talking about lobby registries, tightening up conflict of interest and all that stuff that's kind of floating around out there.