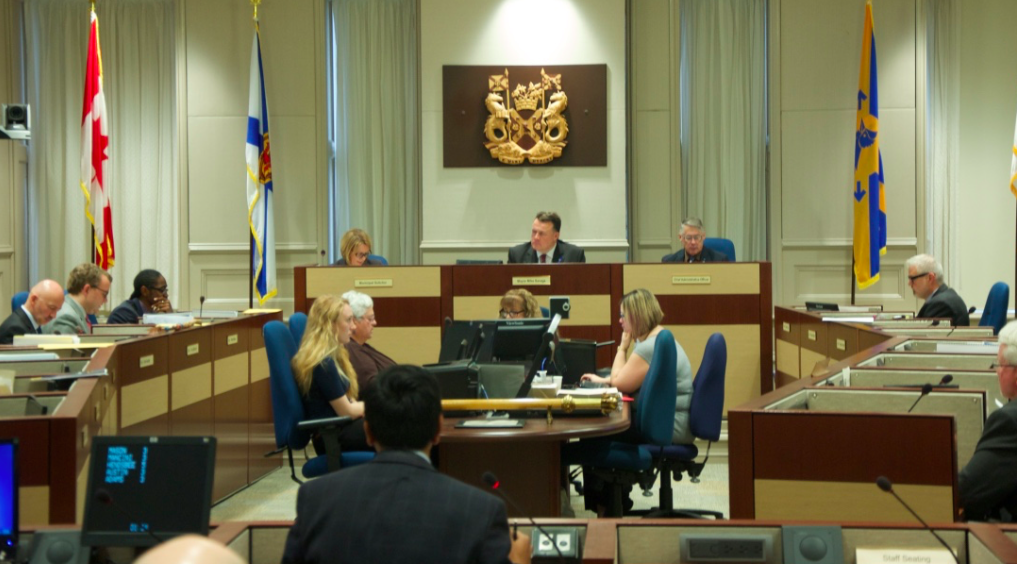 THE COAST
Council, at a meeting this week inside City Hall.
Halifax's government is on its knees looking for an answer: are we human, or are we customer?
Councillors new and old came together Thursday afternoon to set HRM's priority outcomes for the next four years. It was a high-altitude planning session that came down to some precise word choices.
Nowhere was that more evident than in Peninsula North councillor Lindell Smith's request to change "serving customers" in HRM's priorities to "serving people."
"Not all of our residents are 'customers,'" Smith said.
Tony Mancini took exception to that. The councillor for Harbourview–Burnside–Dartmouth East said the municipality has neither "residents" nor "taxpayers."
"The people in our communities are customers," Mancini said. "It's critical we start using that term."
Jacques Dubé, Halifax's new CAO, has already stated that a customer service approach is key to local government. It's a political theory that loosens red tape in order to make government interactions quick and painless. It also conflates citizens with consumers; a slippery bit of neoliberal pantomime that reduces democracy to buying and selling. The councillor for Timberlea–Beechville–Clayton Park–Wedgewood made that explicit at Thursday's meeting
"I'm so much more than a customer," said Richard Zurawski. "It's such a neoliberal silo."
Zurawski's comments seemed to confuse some members of council, who appeared to feel they were being called Liberal party members.
Mike Savage, famously Liberal, jokingly mentioned councillors Steve Streatch and David Hendsbee—both longtime Conservatives—in response to Zurawski's comment. The mayor did, however, agree with the sentiment.
"We can give customer service to people but not just refer to them as that," said Savage.
The mayor also wanted to amend "family, youths and seniors" in HRM's priorities to read "all citizens" or "all inhabitants" in order to better encompass the homeless, single persons, permanent residents and everyone else living in the municipality.
The in-depth discussions at the four hour meeting were a far cry from eight years ago, when Cole Harbour–Westphal representative Lorelei Nicoll recalled council being put in a room at the World Trade & Convention Centre with some Post-It Notes and a vision board to determine HRM's strategic framework.
Officially HRM's vision for the future is to enhance quality of life by fostering the growth of healthy and vibrant communities, a strong and diverse economy and a sustainable environment.
Councillor Waye Mason asked to change "fostering the growth" of vibrant communities in that statement to "supporting" those communities, in recognition that some of our communities are, in fact, already vibrant.
The Halifax South Downtown councillor also requested that HRM "foster a corporate culture that values innovation and bold ideas" at city hall. That statement was meant to free up CAO Jacques Dubé and his team to become more nimble with testing out new pilot projects. It brought some debate between Mason and councillor Tim Outhit about whether a government should spend time and money on a project when it doesn't know if it will be successful. "That's business," said Mason.
"Well this is not a business," countered Outhit.
"Yes, it is," replied at least a couple of HRM's managers in attendance from under their breaths.
Those employees were on hand to give presentations about their respective departments. Some information imparted to council from the various staffers included: residential garbage has decreased by 24 percent this year while recycling is up 13 percent; non-violent crime is down in HRM but violent crime is increasing; youth-at-risk programs are currently at full enrollment; high-speed data collection using a "Google Earth-type" vehicle has begun for pavement repairs; LIDAR data collection will soon begin on all HRM watersheds; library visits are up; and staff are working on strategies for how Halifax will respond to both the current opioid crisis and the upcoming legalization of marijuana.
The amended priority outcomes for the next four years will come back to Regional Council at its next meeting for final approval.