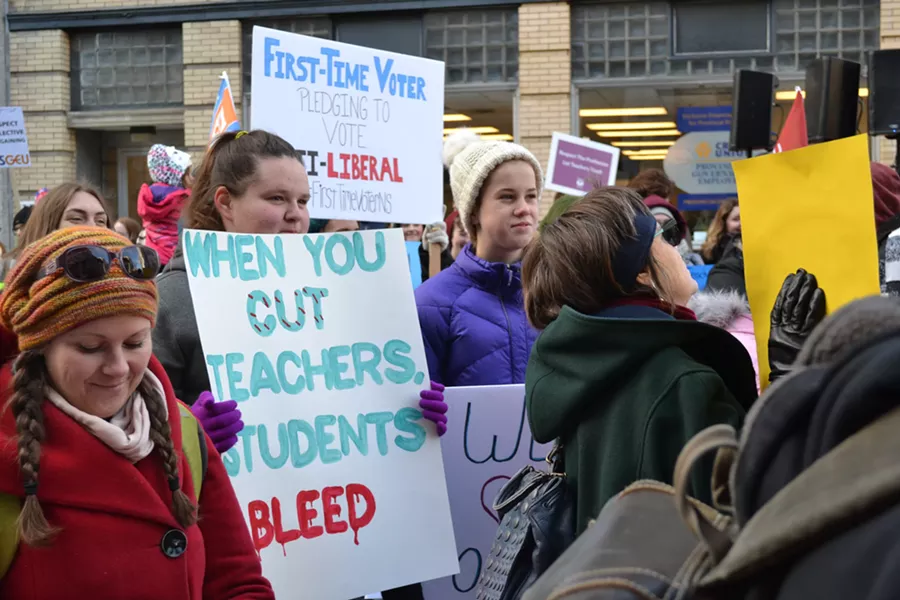 Rebecca Dingwell
Hundreds of students and parents gathered outside Province House in protest on December 5.
The Nova Scotia Teachers Union has accepted the provincial government's offer to go back to the bargaining table.
Liette Doucet, NSTU president, feels optimistic about the upcoming talks.
"I'm hopeful that the government is willing to listen to our bargaining team," Doucet said Wednesday.
According to a statement from the department of Education and Early Childhood Development, the province sent the request to resume bargaining on Tuesday "in the hopes of reaching a resolution."
"Everyone involved wants what is best for our students," said the statement.
In addition, the department released premier Stephen McNeil's letter to Labour minister Kelly Regan, outlining his request for conciliation services.
"The children of the province are the ones being most negatively impacted," it said. "This is and should be unacceptable to all."
So far, the conflict between the province and the union has resulted in work-to-rule action by teachers, protests by both staff and pupils as well as a day-long lockout of students.
Talks are expected to resume on Saturday, but there's no indication as to how long they'll last.
"Obviously, I'd like to see us come out of it with a deal," said Doucet. "I would like to believe that the government will be coming prepared to listen and prepared to offer counters to our asks, and ultimately, to look at what's going to make education better for our students."
Also on Wednesday, the Nova Scotia Government and General Employees Union voted overwhelmingly against a contract offer from the province. Out of the eligible NSGEU members who cast their votes, 94 percent rejected the tentative agreement.