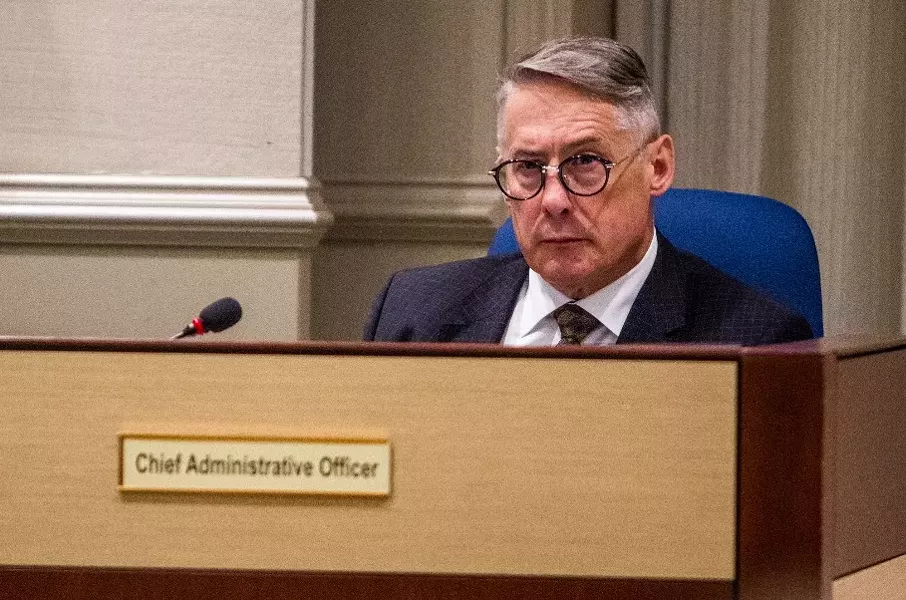 RILEY SMITH
Halifax's CAO Jacques Dubé, pictured in City Hall.
On Tuesday council voted to alter HRM's procurement policy, streamlining how tenders are awarded by city hall while also greatly expanding the CAO office's authority to approve purchases.
Previously, the chief administrative officer could approve awarding any tender under
$500,000
without city council's approval. That limit has now increased to
$1.25 million
.
City hall directors will also see their signing authority jump from $50,000 to
$100,000
, while HRM business units will be able to individually buy
$10,000
worth of services (up from $1,000).
Those changes and
other procurement policy revisions
were made to try and shorten the timeline for awarding municipal tenders and provide better clarity to bidding companies, who can face schedule delays while their offers slowly churn through city hall.
Jacques Dubé
, HRM's CAO, told council the new rules were needed to keep things moving at optimal efficiency and clear out a "substantial backlog" of capital projects.
"There are many things we need to do to cut red tape around here, and this is one of them," said Dubé.
"Saving 32 days, in the construction industry, that's the difference between having a family move into their new home in the fall or wait another six months," said Middle/Upper Sackville–Beaver Bank–Lucasville councillor
Lisa Blackburn
in praise of the swifter tendering process.
Tuesday's report was born out of staff consultations undertaken after former auditor general
Larry Munroe
's damning report into the Washmill Underpass fiasco. Munroe concluded that project, which ballooned to
$11-million
over budget, was
the result of a culture inside city hall
that lacked peer review, proper documentation and had little accountability.
Wearing that albatross around its neck, council sought reassurances from the CAO that increasing his authority and reducing red tape was actually an improvement—and not paving a path towards another Washmill or
concert scandal-esque
catastrophe.
"While all these checks and balances were in place we still managed to have a concert scandal, where money was spent inappropriately without the knowledge of council," said Bedford–Wentworth's
Tim Outhit
. "So our system is not perfect, though it's getting better."
At the same meeting, Peninsula North councillor
Lindell Smith
requested a staff report looking at options for changing HRM's procurement policy to better
prioritize
social economic benefit, a living wage for employees, environmental impact and buying local.
A "buy local" criteria for municipal tenders was floated—and subsequently rejected—by
council
in 2012, though Smith's motion goes beyond looking at that single item and asks for several previously unstudied criteria to be weighed in HRM's tender scoring system.
"We should make sure that anything we're procuring or tendering out should reflect our priorities," said Smith.
Also on Tuesday, the CAO announced a new corporate structure at city hall that names
Jane Fraser
as director of the newly created Corporate & Customer Services business unit, which replaces the former Operations Support unit. The new C&C department includes communications, 311, IT and other "customer service" services.
Fraser was previously the acting deputy chief administrative officer, but that position no longer exists. City hall's other business units—transit, parks and recreation, planning and development, fire and emergency, transportation and public works—will now report directly to the CAO's office. Here's a
chart explaining it all
.
Dubé writes in a press release the restructuring won't change the number of full-time equivalent positions, but will "help achieve our strategic goal of delivering service excellence."