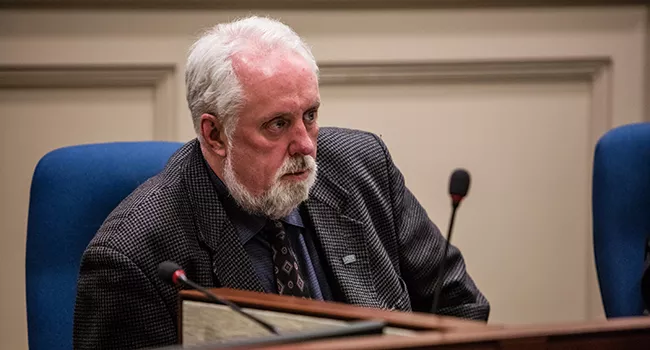 RILEY SMITH
Preston–Chezzetcook–Eastern Shore councillor David Hendsbee, pictured inside City Hall.
David Hendsbee won't be getting any taxpayer money to top up his pension
Regional council voted against the Preston—Chezzetcook—Eastern Shore representative's motion asking for a staff report on
whether the municipality could split the cost
and help him buy back years on his pension.
The request was met with public scorn over the weekend, to the point that the councillor claimed during Tuesday's meeting the
media coverage in this outlet
tainted his vacation plans.
"Jacob Boon kind of ruined my long weekend with that article in The Coast," lamented Hendsbee.
But the idea wasn't received any more favourably by Hendsbee's colleagues.
"I do believe if we vote for this staff report, essentially what we're saying is we're OK with taxpayers paying for the poor financial planning of officials," said Shawn Cleary.
"No way, no how, not on my watch," said Lisa Blackburn.
"Most of our citizens don't have pensions," said deputy mayor Steve Craig. "We do have to take responsibility for our own affairs…The onus is on the individual, not the organization."
The motion was eventually defeated, 13-3, with only Hendsbee wingmen Steve
Streatch
and Bill Karsten offering supporting votes.
"I want to stick up for my buddy here a wee bit," said Bill Karsten. "This is being portrayed as so far out of left field that it's ridiculous."
Karsten, historically
not a fan
of
this media outlet
, said the outrage online was the result of "improper media attention."
"It's a sensational thing when the media starts to, I think, play games with things."
Hendsbee told his colleagues he originally opted out of the plan two decades ago due to some combination of stupidity and naivety.
He claims it's one of only two regrets in his political career. The second was asking for this staff report.
Perhaps sensing defeat, the
councillor
closed the debate by suggesting he's been the "best bargain" at city hall because he hasn't made HRM match contributions to his pension plan over the years.
"I've not been a drain on the public purse," said Hendsbee. "Perhaps the public purse has been a beneficiary of me."