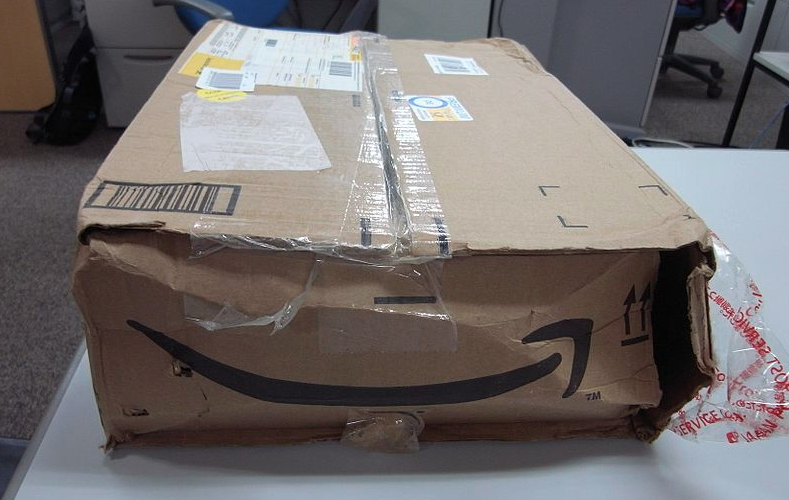 Hoary, via WikiCommons
A parcel from Amazon.com, before being opened by the addressee
The municipality's pitch for Amazon's second headquarters will be used to influence other potential investors—and even Haligonians themselves—should the bid prove unsuccessful. But the details of what's in that offer aren't being released to the public.
A glimpse into that submission was released Friday in the form of a
declassified council report
. The in-camera document broadly touches on some of the locations, incentives and actions the city is willing to take to lure the giant online retailer to HRM. But specifics about those plans are being kept confidential, even though the deadline for submissions to Amazon is now closed.
The bid was prepared by the Halifax Partnership with the blessing of CAO Jacques Dubé and
mayor
Mike Savage. Partnership spokesperson Krista Juurlink says the document won't be released to the public "due to a non-disclosure agreement with Amazon."
More than 100 cities across North America have either considered or submitted bids for Amazon's gargantuan second headquarters since the Washington-based company announced its open call for entries weeks ago. Many of those locations have
subsequently released their offers
and engaged in
embarrassing PR stunts
to show Amazon how desperate they are for jobs.
Although the idea has
faced significant local criticism
for how grossly out-of-place Amazon would be in Halifax and how utterly, ridiculously small the city's chances are at winning this contest, staff suggest the assembled bid will be beneficial to HRM regardless of Amazon's decision.
"The Halifax bid campaign is not just aimed at Amazon decision-makers," the report reads. "HQ2 watchers and influences, other potential investors and Haligonians themselves are also important audiences."
Significant components of the bid will be re-purposed for other investment efforts, says staff, while portions of the bid package "may be released to the public."
Although that hasn't happened yet, the declassified staff report does offer a glimpse into what Halifax will offer up should Amazon decide to call Nova Scotia home.
Staff suggest the 80 acres of Shannon Park's former military compound in Dartmouth is prime waterfront real estate for Amazon to build on. Amazon's request for proposals called for room to build 500,000 square feet of office space, expanding to 8 million square feet over the next decade. Somehow putting such a massive structure on the Shannon Park redevelopment meets the objectives of the Centre Plan, according to city staff.
"Developing Shannon Park into a work campus would meet the overarching goals of the Regional Council-approved Centre Plan policy document by promoting the co-location of workplaces and residential communities."
Halifax is also pitching the new downtown community set to rise from the ashes of the soon-to-be-demolished Cogswell Interchange as a home for up to five percent of Amazon's planned 50,000 employees.
The Partnership also hired National Public Relations to build a "compelling quality of life segment" for its submission and threw in some tax breaks. The staff report proudly acknowledges Nova Scotia Business Inc's willingness to create an "incentives package," and HRM's "ability to provide some property tax incentives. Federal money is also on the table, but presumably, that would apply to anywhere in Canada that Amazon wanted to build.
The full document can be read
here
. Amazon will make its decision early next year.