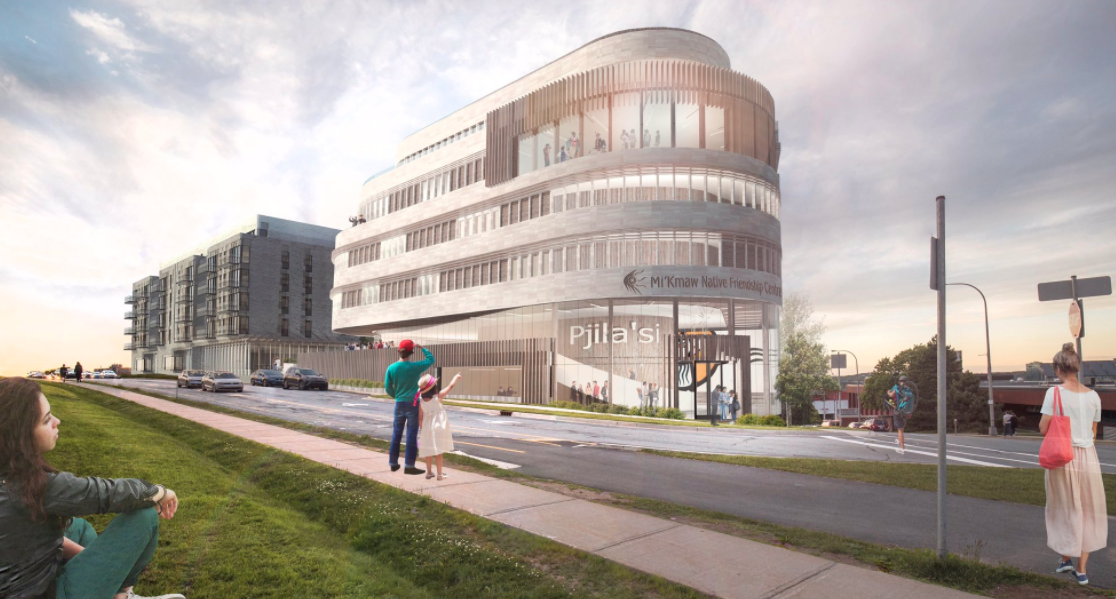 Ekistics Plan + Design
Design mock-up for what the new Friendship Centre could look like.
Regional council
approved an agreement
Tuesday to sell the former Red Cross property on Gottingen Street to the Mi'kmaw Native Friendship Society.
Terms and conditions of the deal are contained in a confidential report that wasn't released to the public, but what is known is that the sale will be at market value and is still very much dependent on additional funding help from both federal and provincial governments.
Friendship Centre executive director Pam Glode-Desrochers cautions there's a long road ahead before anything's official, but is nevertheless thrilled with the decision.
"Now that we're this far along, it's a piece of leverage that we're able to gain access to," she says. "HRM's taken a huge leap of faith here, and we're going to make it to the finish line."
Council voted back on National Aboriginal Day to pull the vacant property next to Citadel Hill off the market and
explore selling it
for use as the Friendship Centre's new home.
Glode-Desrochers has estimated the non-profit will only need 70,000 square feet out of the 200,000 available on the site. Use of the remaining space, she says, will be determined through public engagement with both Indigenous and non-Indigenous residents. Office space, affordable housing; "It's all on the table."

Preliminary
mock-ups for the site
completed by Group ATN and Ekistics Plan + Design imagine two buildings on the lot, with the new Friendship Centre standing prominently at the corner of Gottingen and Rainnie Drive.
Whatever the final designs are, Glode-Desrochers says the Mi'kmaw territory will be well-represented by an "iconic" building.
"Right now, everybody refers to us as the building with the paintings on the outside," she says about the Centre's current location. "We want it to be, when you're in HRM or the province of Nova Scotia, you need to go see the waterfront, the [Central] Library and don't forget about the Mi'kmaw Friendship Centre."
Appraised at $6 million, the property at 1940 Gottingen Street has been vacant since Canadian Blood Services moved out in 2013. The Mi'kmaw Native Friendship Centre has operated out of its current home down the road on Gottingen since 1984.
At the same meeting,
council
also voted to create a Downie Wenjack Legacy Room inside City Hall's main floor boardroom to better educate HRM residents about Indigenous history and the horrors of the Residential School system.
"For a lot of us, we grew up at a time when the Indigenous point-of-view was not represented in textbooks, in conversations, in museums," said
mayor
Mike Savage. "We, as leaders and as, I think, politicians, have a responsibility to make this a teaching moment."
Chanie Wenjack, a 12-year-old Anishinaabe boy from Ontario, died in 1966 while attempting to run away from one such school. His story inspired Gord Downie's Secret Path Project in 2016.
Council will consult with its new Indigenous advisor Wyatt White and the Mi'kmaw community on the Legacy Room's details. The municipality also pledged to donate $25,000 to the national Gord Downie and Chanie Wenjack Fund.