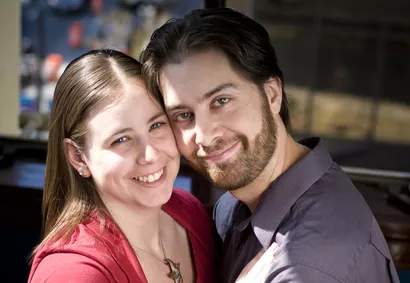 We got engaged on a wonderfully sunny day in a park. We were walking our dogs along the trail when Peter said "I know there is a geocache here, let's have a look." We had geocached on our first date in the public gardens and around downtown Halifax so this seemed like just another adventure. For those of you who don't know, geocaching (www.geocaching.com) is a treasure hunt where you find boxes or "caches" using your GPS. Peter introduced me to it and we've found dozens of caches together from coast to coast.
We ended up at the end of a local park near a beach. I was bending over looking in the exposed roots for an old ammo container or camouflaged ice cream bucket when I saw a little purple box under a nearby tree. I pointed past Peter to the box and said "what is that?!" He said "oh I don't know", grabbed the box and was down on one knee.
I of course said yes.
He had had the ring in his pocket all day and placed it in the roots of the tree while I wasn't looking.
We are getting married in August at Hatfield Farms.
*As submitted by Amy Logan.