People who catch fish and people who eat fish are hooking up in an interesting new way in Halifax.
The Off the Hook CSF has been up and running for five weeks, and by all appearances is a great success. CSF stands for "community supported fishery," analogous to community supported agriculture, and like CSAs, CSFs are basically a subscription service---customers pay an upfront fee, and every week pick up part of the fishers' catch.
The idea is that local people can eat fresh, locally caught fish, and local fishing people can make enough money to continue fishing in a sustainable fashion.
I joined Off The Hook, and have been picking up my fish every week ever since, except for one week when I had something to do and let a friend have it.
The first pickup day, the subscribers met the organizers and the fishers, who all work in the Bay of Fundy. Ninety-nine people have signed up, but even on the first day, the process was painless; I was in and out with my fish inside of ten minutes (in subsequent weeks, it's taken all of about two minutes).
It's as simple as this. First, they weigh out between four and six pounds of fish, my weekly allotment. (So far, the fish has been haddock, but hake or pollock might also be delivered.) The fish might have been caught that very morning, but definitely within the past couple of days.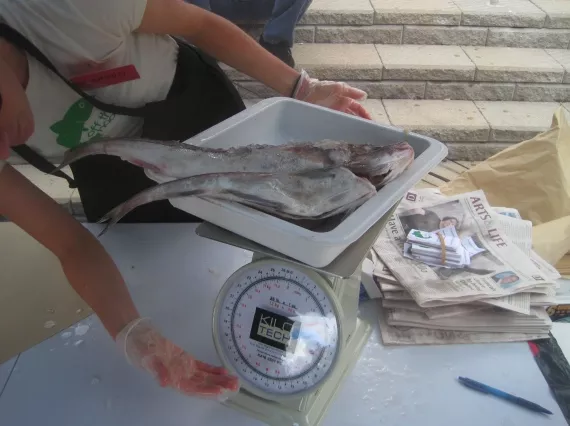 Then, they wrap up the fish.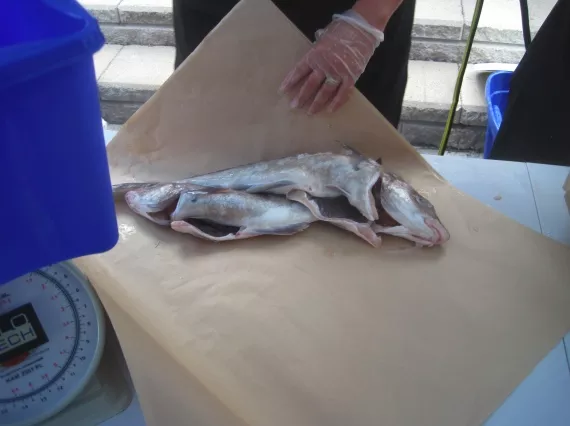 And really, that's all there is to it.
Of course, then you have to figure out what to do with the fish. Many years ago, in a previous life in a distant galaxy, I filleted fish for a living, but I very much needed a refresher course, which thankfully has been provided by Off The Hook.
I've filleted the fish a couple of times, but also I've found that I needn't go to the trouble. I can simply take the heads off, split the fish a bit and dress them with garlic, dill and onion from the garden, olive oil and some lemon, and then bake it on the barbeque for about 15 minutes on low flame.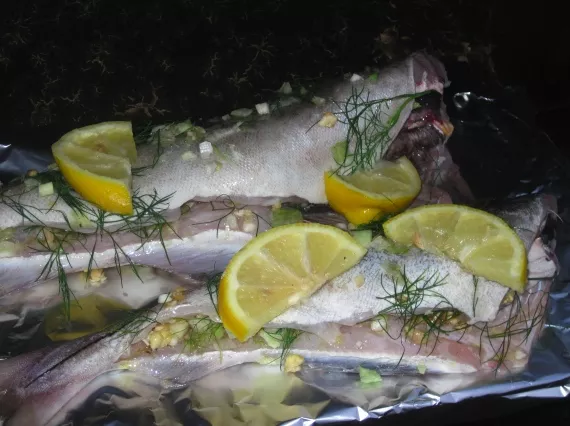 The meat pretty much just falls off the bone, and it's been a huge success with guests.
Next, I need to learn how to freeze the leftover fish, and how to use it through the winter. That's a bit of a chore, but it's fun learning about fish and how to cook it.
This entire experience makes me feel a bit more connected to Nova Scotia, its history and economy, and maybe this enterprise is helping to nudge our fisheries into a more sustainable position.
There will be another round of subscriptions in a few weeks. You can put your name on the waiting list, here.