Wednesday, December 29, 2010
Too stormy for fishers to work safely
Posted

By

Tim Bousquet on

Wed, Dec 29, 2010

at

1:04 PM
Our favourite sustainable fishing operation,
Off The Hook
, has had to regrettably its planned delivery of lobster to the Farmers' Market
this Thursday
. Says the group's
Facebook page
:
Unfortunately, continued rough weather along the Bay of Fundy means that none of our members have lobster to bring you as originally planned tomorrow.
OTH suggests people buy local lobsters from fishers selling at roadside stands.
Monday, December 27, 2010
Posted

By

Tim Bousquet on

Mon, Dec 27, 2010

at

2:52 PM

successfully negotiating

a zoning hassle that threatened to close the business just a year after it opened.

But the Twist also presents an interesting case study of a business owner dealing with personal ethical standards that come smack up against accepted business practices.

Besides its truly excellent food, Caribbean Twist, the north end Jamaican restaurant, is probably best known for
North end rock club and eatery combo? We like.
Posted

By

Carsten Knox on

Mon, Dec 27, 2010

at

4:00 AM

In the evenings it's very much the rock club you know and love, but now in the day the Paragon Theatre boasts its own eatery, called The Gallery Pub (2037 Gottingen Street). Food service is from 11:30am to 9pm and consists of pub staples such as soup-of-the-day (made with fresh, local and organic ingredients), nachos, wings, poutine, baked rotini, salmon, chili, burgers and for the vegans and vegetarians, check out the selections of salad offerings, including a vegan caesar salad. And yes, the famed Marquee Pizza is featured on the menu, in a personal-sized flatbread version.
Wednesday, December 15, 2010
Community supported fishery offers holiday deals
Posted

By

Carsten Knox on

Wed, Dec 15, 2010

at

4:00 AM

Off the Hook CSF

fishers will bring a limited amount of fresh, hard-shelled lobsters to Halifax to the

Halifax Historic Farmer's Market

(aka the

Brewery Market

). Check them out on December 18th, December 23, and/or December 30 and go home with a bag full of fresh, local lobster. For more information on lobsters from Off The Hook, check

this out

or call

Sadie Beaton

at 442-0999.
Tuesday, December 14, 2010
Tea House opens location on Spring Garden
Posted

By

Carsten Knox on

Tue, Dec 14, 2010

at

4:00 AM

Started in Montreal only two years ago, DavidsTea (5486 Spring Garden Road, 422-7617) is now a national concern. Peninsula grazers, you now have two locations at which to purchase the many kinds of teas available in the store, the one above, opened recently, and at Halifax Shopping Centre.
Dartmouth now has its own award-winning Thai food
Posted

By

Carsten Knox on

Tue, Dec 14, 2010

at

4:00 AM

The multiple Best of Food-winning Thai Food restaurant Talay Thai (1261 Barrington Street, 404-3700) now has a sister location in Dartmouth. For those of you in the City of Lakes craving Pad Thai, Green Curry or Cashew Chicken, we recommend you check out Talay Thai, available at 984 Cole Harbour Road (462-1600).
Monday, December 13, 2010
Mike Campbell's campaign bears fruit.
Posted

By

Carsten Knox on

Mon, Dec 13, 2010

at

4:00 AM

As the owner of local restaurant and music venue The Carleton (1685 Argyle Street, 422-6335), Mike Campbell has had plenty to say about the parking regulations on the streets downtown, in regular newsletters to his customers and the Stop the Winter Parking Ban Facebook group. In a recent dispatch, he had some good news to pass on: "I am very happy to report that: the 'No Stopping' signs on the east side of Argyle St. have been replaced with '2 Hour Parking' signs which will remain until the meters on the street can be reinstalled. AND all the tickets written for parking in that No Stopping area since the end of October have been reversed! "AND---be still, my hammering heart---the city will no longer be handing out tickets to cars parked in the 'Motorcycle Only' area on the west side of Argyle St. during the winter months even if the signs remain." Campbell credits Dawn Sloane for getting the city to do something in this instance and calls the change "a small but significant victory for the powers of goodness over the forces of badness." Incidentally, the parking ban will be reinstated from 1am this Wednesday, December 15 and runs until March 31, 2011. It restricts on-street parking from 1am to 7am.
Sunday, December 12, 2010
Bayers Lake to get a lot more cupcakes
Posted

By

Carsten Knox on

Sun, Dec 12, 2010

at

4:00 AM

Susie's Shortbreads (1589 Dresden Row, 406-7075) is opening a second store location in Bayers Lake in the spring of 2011. The downtown Dresden Row location will remain open, but the new location (at 220 Chain Lake Drive in the Wal-Mart parking lot between Harvey's and Payless Shoe Source) will offer more products and services including a party room workshops and classes. When it gets closer to the opening day we'll let you know the deets.
Friday, December 10, 2010
(Well, it's a second floor, but you know what we mean.)
Posted

By

Carsten Knox on

Fri, Dec 10, 2010

at

4:00 AM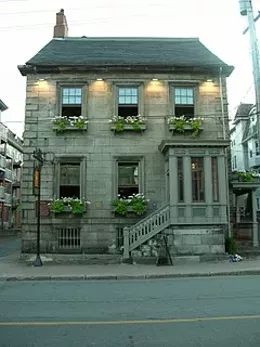 The historic
Henry House Restaurant and Pub
(1222 Barrington Street, 423-5660) has extended to the second floor of the ironstone and granite former residence of Confederation father
William Alexander Henry,
though they refer to it as the third floor, since the establishment already fills both a lower and upper level. It opened weeks ago after a year of renovation, with Victorian pub features shipped in from the UK. A brand new menu will arrive this week, reflecting the selection of "per-prohibition era cocktails," says bartender and manager
Jessica Alsop
. "We've been working with a lot of bitters." They serve appetizers as well, some of the favourites from the lower floors but some new surprises as well. The third floor is currently open Thursday, Friday and Saturday from 5pm until last call, which is usually around midnight, while the other levels are open Monday-Saturday 11:30am-12:30am and Sunday 12pm-11pm.
Wednesday, December 8, 2010
We heard something about Just Us!...
Posted

By

Carsten Knox on

Wed, Dec 8, 2010

at

4:00 AM

It's certainly not too early to start talking about 2011 in local business. If everything goes well, Shoptalk has heard the good people at Just Us! will be opening a cafe at the Khyber (1588 Barrington Street, 422-9668). More info to come as we (over)hear it.
Bishop's Landing fine dining resto to transform in 2011
Posted

By

Carsten Knox on

Wed, Dec 8, 2010

at

4:00 AM

Bish Wold Cuisine (Bishop's Landing, 1475 Lower Water Street, 425-7993) will be hosting a "Last Supper" on New Years Eve, then closing its doors. The Bertossi Group, owners of Bish, Il Mercato and Ristorante a Mano, will then renovate the space and open a new restaurant in February 2011, called The Bicycle Thief---presumably named after the 1948 classic Vittorio de Sica picture Ladri Di Biciclette. According to the Bertossis, the new eatery will blend old world with new, offering "North American food with an Italian soul." All Bertossi Group gift cards and Bish gift certificates will be honoured at the new place.
Tuesday, December 7, 2010
Former CBC broadcaster to sell spices at the Brewery Market
Posted

By

Carsten Knox on

Tue, Dec 7, 2010

at

4:00 AM

He was the familiar voice of Maritime Noon on CBC Radio One until his retirement in September. If you've been missing his dulcet voice or have a hankering for spice, head on down to the Brewery Market (also known as The Historic Halifax Farmers' Market, 1496 Lower Water Street) on either (or both) of the next two Saturdays, December 11 and 18, where Costas Halavrezos will be engaging in his "first post-Maritime Noon venture," selling a selection of spices, spice blends, spice and herb kits and cookbook/spice kit combos. "For people who like to 'grind their own,' I'll have curries (Jamaican, Sri Lankan and Madras), blends (Satay, Creole, and Turkish kofte), masalas (Tandoori, Vindaloo), herbs (Provençal & Zaatar) and a wonderful variety of aromatic peppers (Chicken Hill from the Cardamom Mountains, Indian long pepper and wild pepper from Madagascar)," explains Halavrezos, who has sourced his spices from from the couple who run Épices de Cru (epicesdecru.com), a company based at the Jean-Talon Market in Montreal. "The bilingual cookbook/spice kit combos and spice kits (between four and eight different spices or blends) make perfect gifts for foodie friends. Or yourself." For those who can't make it down to the market, Halavrezos will be taking orders at costas@halavrezos.ca for the next week or so.
Friday, December 3, 2010
lunch and dinner to be the mainstays
Posted

By

Carsten Knox on

Fri, Dec 3, 2010

at

4:00 AM

"At the core of it, we want to reallocate the resources that we put towards brunch into the other services we prefer to do," explains George Christakos of Brooklyn Warehouse (2795 Windsor Street, 446-8181), the classy and casual eatery where lunch and dinner can be had, as well as, at least until the end of 2010, brunch. "There are a lot of places that do a great brunch. There's definitely a lot of demand for it...but it can be overwhelming. We have 35 to 40 seats, so what ends up happening is there's a line-up. It creates an atmosphere that's rushed. Brunch seems to be that everyone wants to be in and out in 20 minutes. We do everything from scratch here, it's really hard to do that with the expectation that some of the brunch-goers have." Makes a lot of sense, especially from a proponent of slow food. Christakos intends to discontinue brunch come January and focus more on lunch and dinner, as well as open up an extra night for dinner, Sundays from January 9.