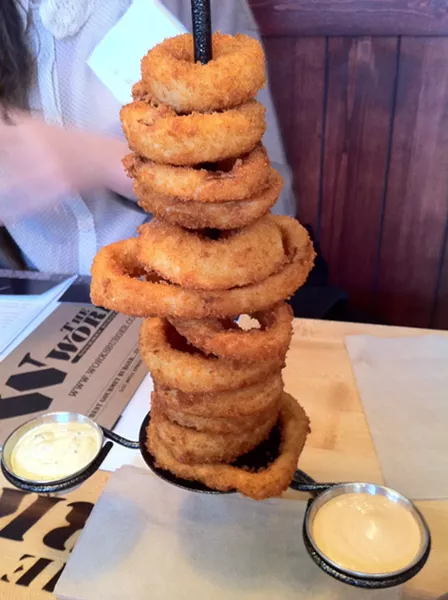 The subject matter of my dreams as of late.
The newest patty in town has arrived, burger lovers. After finding out that Ottawa-based chain The Works Gourmet Burger Bistro was hitting Hali last summer, the curious and hungry among us have been waiting, and waiting, to sink their teeth into one of these famous burgs. This Thursday and Friday marks the official arrival of the first Works in Atlantic Canada—make that the first Works outside of Ontario—which has taken over 5431 Doyle Street with its 70 burgers (and something like 420 combinations), 50 plus shakes and tons of tempting sides and starters (like that Tower o' Rings I've been dreaming about nightly). Sure, the menu is intimidatingly massive but that just means you'll have to get to know it. Study up, folks.
Owned by husband and wife team Alan and Jody Garner, who call the business venture their honeymoon, The Works is kicking off their first week up-and-running in a big way. Before its official grand opening on Friday (February 22) comes Free Day. In a collaborative effort with Feed Nova Scotia, on Thursday (February 21) The Works and the Garners welcome you to eat for free, yes FREE, if you make a donation to the local charity. Both cash and non-perishable food donations will be accepted in exchange for damn good burgers and more from 11am to 2pm and 5 until 8pm on Thursday. See, good karma exists, people. The proof is in the patty!