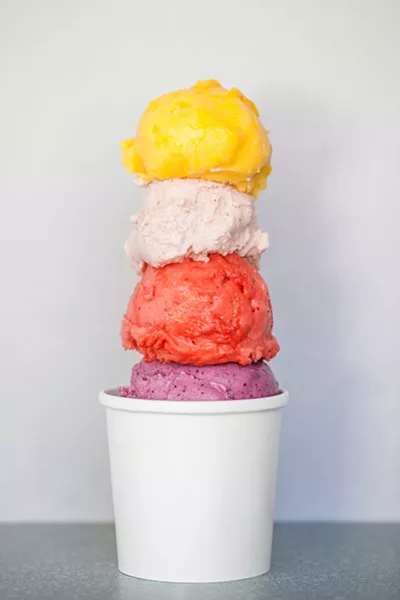 Meghan Tansey Whitton
Tower of power
The best things in life are free, and the best foods in life are gelato. So, Humani-T Cafe (5755 Young Street and 1451 South Park Street) probably had you at Free Gelato Day, the third annual fundraiser and positivity dose hosted by both locations of the coffee shop.
"When we first opened the cafe, we had the vision of making it a community space," says Kiyan Sobhani. "We weren't just doing it for the money, we were doing it for the community to get together." While brainstorming creative ways to give back, Humani-T landed on free scoops of gelato—kind of like Ben & Jerry's Free Cone Day, but with a donation attached. Each year the growing event chooses a different cause to collect cash for, this time it's the CNIB. Sobhani says both cafes have been making gelato constantly to prep for the thousands of people who might show up next Wednesday (yes, thousands, or so says Facebook).
"The lineup goes up the street but no one is rushed or stressed. As busy as it gets it a very fun day," he says. "A way to give off some good vibes in the community."
---
Free Gelato Day
Humani-T Cafe, 1451 South Park Street and 5755 Young Street
Wednesday, April 15
2-8pm