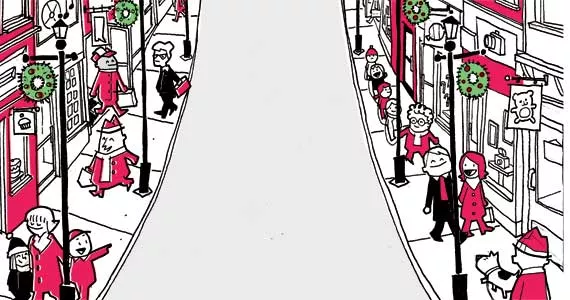 The Coast's Buy Local Pledge was once again a tremendous success. This year 590 Coast readers committed to spending $100 each in locally owned stores for Christmas shopping, placing $59,000 into the local economy, a significant increase from last year's pledge total.
As incentive for pledging, The Coast awarded four prizes, each consisting of $500 in gift certificates from local businesses, to randomly selected pledgers: Ditta Kasdan, Daina Travenier, Marilyn MacMullin and Ryan Douthwright. This week, we caught up with Kasdan and MacMullin.
Ditta Kasdan is herself the owner of a local business, Dee Dees Ice Cream, which she has grown from her initial Peggys Cove and Farmers' Market locations to a third location just a block from the Halifax Common, at 5668 Cornwallis Street (407-6614). The new store also offers Coast-tested delicious burritos.
Kasdan was reading The Coast and came across our readers' poll question, which that issue was about the convention centre proposal. "I think it's a terrible idea," she says, so she jumped on The Coast web site to cast her vote, and happened upon the Buy Local pledge at the same time.
"It's kind of a no-brainer," she explains. "About 10 years ago I said to myself, 'you know, I'm not going to buy anything [as Christmas gifts] that isn't local, or isn't something I believe in. So, I've been buying recycled glass plates from P'Lovers [Park Lane Mall, 5657 Spring Garden Road, 422-6060] and wool socks from The Trail Shop [6210 Quinpool Road, 423-8736], that kind of thing. It's the only way to have a sustainable economy, in the long run---buying local."
Kasdan says her own shop is dependent on people spending money locally, and thanks to that commitment in the community, she's doing well. She is, however, closing for the week between Christmas and New Year. "It's not just about the money; it's about having a good life as well," she explains. "My employees are grateful to have the time off, to visit with family."
When Marilyn MacMullin, a Dartmouth resident, learned she won, she immediately sent us back an excited email. "I have let friends know that I have won The Coast's Buy Local draw, and I will be paying it forward. While I hope that there will be some certificates that I will be able to use, there may be others that probably won't be up my alley... I will take bids on those things and donate the winning bid to a charity identified in The Coast's Giving Guide."
Sure enough, she picked up her gift certificates Monday and did as promised. "There were a few I could use," she says, including to TAO The Adventure Outfitters (5187 Salter Street, 481-9826), The Trail Shop and Attica Furnishings (1566 Barrington Street, 423-2557). Gift certificates that MacMullin had less use for personally, she listed in an email to friends to bid on---including from Quantum Frontier Games (3087 Robie Street, 446-8233), If Only Surf Shop (1300 Queen Street, 405-322) and Gentle Touch Skin and Laser Centre (1096 Queen Street, 429-6611). "I think almost everything is gone---it's amazing how everyone jumped on it very quickly.
"What was really nice about it was to hear how many people actually entered the contest, and to hear how many people are actively involved in buying local, and to hear how many people appreciated the comments last week in The Coast about really discerning 'What do we mean by local?'
"I'm fairly committed to the Metro area, to Dartmouth---I proudly wear my 'I love Dartmouth' button [from Two If By Sea Cafe, 66 Ochterloney Street, 469-0721]," continues MacMullin. "I think there's a growing number of people who realize we give to our community, and we get from our community."