With the
St. Pat's-Alexandra controversy
bringing new attention to the neighbourhood, now's a good time to shine the Shoptalk spotlight on the Gottingen Street retail district. I'm happy to report that things are looking good.
Global TV will move into the old Palooka's space.
Merchants are still disappointed about the UARB decision to not allow
Reflections
to transfer its late-night cabaret licence to the former
Marquee
site (2037 Gottingen)---they think the move would've brought new energy to the street---but on the heels of that bad news came word that
Global TV
is moving into the former
Palooka's Gym
space (2110 Gottingen), bringing 48 employees and new customers to the street.
Frederic Tandy
, proprieter at the nearby
Charcuterie Ratinaud
(2082 Gottingen, 446-8222), could not be more pleased. Tandy---who learned to cook with his grandmother back in France (for whom the place is named) and has been kicking around the Canadian restaurant scene for about a decade, including locally at
Bish
, before it became
The Bicycle Thief
(1475 Lower Water Street, 425-7993)---is the youngest-looking 30-year-old on the planet. He opened his store just last month, and makes everything on site: pates, proscuitto, sausages amd much more, appealing, he says, to "people who are interested in food and want to try new things."
Across the street, Marcel Hebert, owner of The Futon Store (2091 Gottingen, 454-9029), says business is much better than he expected in his temporary storefront, occupied while he rebuilds his 5730 Young Street building, which was destroyed by fire last year. Hebert shows me plans for the new structure, which looks much like the old, and says he expects to have it completed in "four or five months." I'm impressed, and a little unbelieving that such a thing can happen so quickly, but wish him the best of course.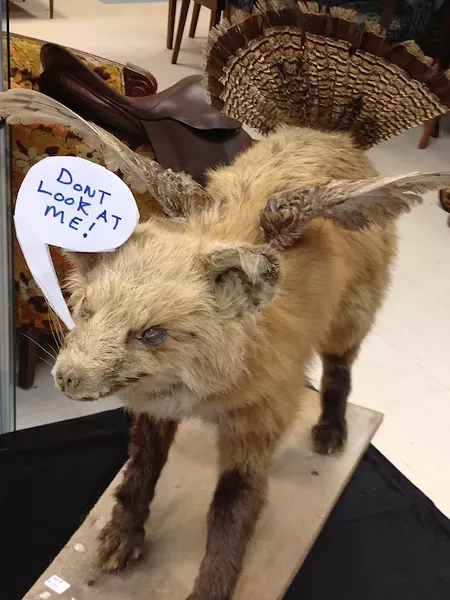 The next block up,
Plan B Merchants Co-op
(2180 Gottingen) is also doing better than expected, says
Scott Owen
, one of the founders. I'm not surprised: with 23 vendors selling offbeat, interesting and just plain weird stuff, Plan B is a treasure hunter's nirvana. Owen shows off some cigar box guitars and his latest score, a collection of stuffed animal hides bought from a taxidermist in the valley. Proudly displayed near the store entrance is a hybrid flying fox (pictured), all yours for just $275.
In other Gottingen news, plans for a Co-op grocery store somewhere along the street are still in progress, says Bernard Smith, director of the North End Business Improvement District. The group has visited recently closed Co-ops in Musquodoboit Valley and Wolfeville, and has figured out how to avoid those sort of management problems, although Smith swears me to secrecy in terms of details.
Lastly, the folks at Home Grown Foods (6186 Allan Street, 492-1412) will soon open a Gottingen storefront, in a new building across the street from the library.)