The Oval is a raging success, but the vast majority of people are coming out in hockey skates. Others, however, are taking advantage of the long ice to learn how to speed skate, and now
The Trail Shop
(6210 Quinpool Road, 423-8736) is offering a range of speed skates for sale.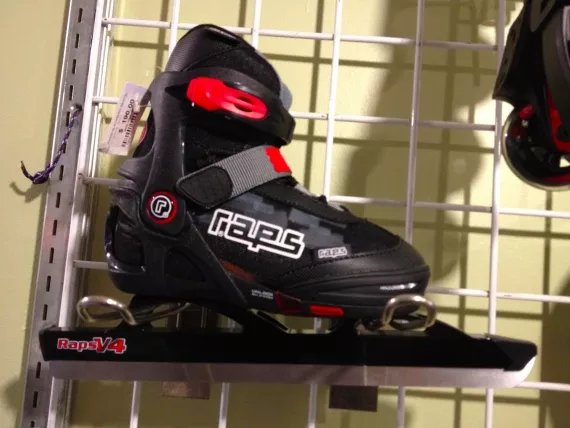 For the youngsters, there are these
raps
brand skates, with an adjustable boot that can grow through four European sizes with the child, perhaps through two seasons. At $190, this skate is an excellent buy.
The Zandstra skate with comfort clap.
A good entry level recreational skate for adults is this
Zandstra
brand skate, for $339. It comes with a "comfort clap"---that is, beginning speed skates can use it in a fixed-blade setting, and as their skating improves, can switch to the clap setting---with modern competitive speed skates, the blade is hinged at the front of the skate, so the blade disconnects from the boot as the skater pushes her foot out, allowing the entire blade to stay on the ice surface throughout the push; when she lifts her skate again, the blade "claps" back into the original position.
The Maple skate for competitive speed skaters.
And then for the serious competitive speed skater comes this
Maple
brand skate with a carbon fiber LT Blizzard blade for $760. This is a really great price for such a good skate---I've seen other competitive skates at well over $1,000.
The Trail Shop has other options for skaters---the best blade in stock is the Blade Comet Laser, which by itself (no boot) is $829, or folks can buy the Nordic Skate blade for $95, which can be fitted to ski boots. "You can cross country ski out to a pond, and switch from your skis to a ice blade," explains John Annett, the shop's hard goods buyer.
There are also accessories, including helmets, and Annett is learning how to sharpen blades, a service which will be offered at the shop when he perfects it.