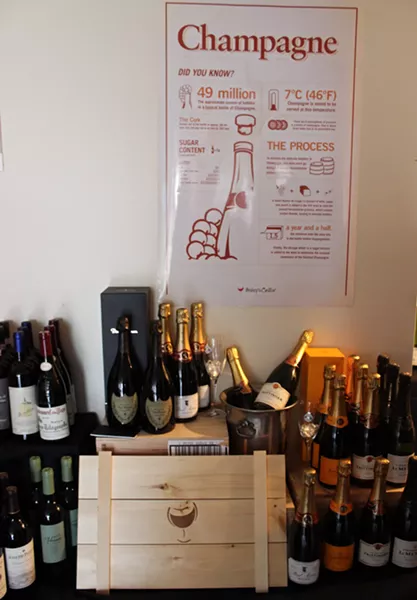 A peak at signage done right
Bishop's Cellar (1477 Lower Water Street) has opened a pop-up shop very nearby at 1475 Lower Water Street. The six-day boutique will run until this Wednesday (April 17), offering local and less-expensive wines while the store's regular retail space undergoes renovations. The makeover has been in discussion for about a year and will create a more spacious and accessible shopping environment for customers. With the help of Napkin Works, the re-design will allow for wines to be categorized by place and taste, with each bottle being neatly displayed in open, wooden cabinets.
In keeping with the new and organized style, iPads and posters will be available for those yet-to-be sommeliers that need just a little extra guidance. With the iPads, customers will be able to type in the wine they are curious about and receive an array of information on the product, from where and when it was made to what it would best be paired with. As for the posters, they will be displayed around the store and outline different facts about red wine, white wine and champagne. They will also include QR codes, which customers can scan with their smart phones. But aside from the newly organized inventory and electronic assistance, the most exciting part about the renovation has to be the improved tasting area. Equipped with an in-the-wall bowl sink and enomatic wine dispenser, bigger and more efficient tastings will soon be possible. More wine in a shorter period of time? Count us in.