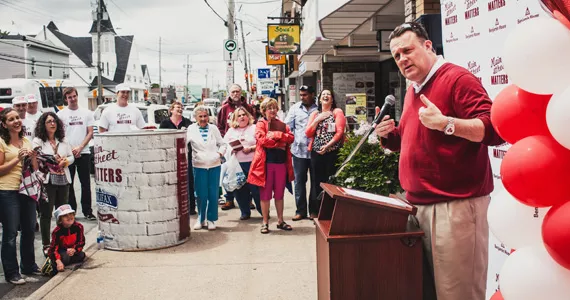 Curtis Rothney
New spiffy Quinpool storefronts include Sicilian Pizza, Rich Forest Cafe and Thai Ivory Cuisine. Mayor Mike Savage, top, swung a brush on the weekend.
Quinpool Road sports bright new colours---mayor Mike Savage applied the final brushstrokes on the weekend. The street was one of 20 in North America selected for a makeover by American paint producer Benjamin Moore.
The Quinpool Road Mainstreet District Association, headed by Karla Nicholson, has campaigned long and hard for the sprucing up, which includes 21 properties--- think Greek Village, Adept Tattoos, Halifax Cycle Gallery, Sicilian Pizza and Heartwood---from Harvard to Monastery Lane.
Another recipient, Phil's Seafood, has been a mainstay of Quinpool for more than a decade. But "it was looking pretty shabby," says owner Phil Perrin. He'd wanted to paint anyway. He didn't have to.
A "marketing guy" flew up from the States to consult on design and paint choices and the labourers took it from there, going with a brighter blue, red and cream façade. Perrin's customers have been complimentary.
The push for the Quinpool makeover was inspired by disappointment. "We were looking for a consolation prize," Nicholson says, laughing. Hoped-for city funding for a $10,000 façade-improvement project had just fallen through when she learned of Benjamin Moore's contest. She recruited the new mayor to make a video, shot inside the Biscuit General Store on Barrington, in which he compares himself to Brad Pitt and urges folks to vote for Halifax, one of 100 cities eligible for gussying up.
Mayor Savage's starry delusions worked---voting for Halifax spiked as the video went Hali-viral. Last July, Nicholson learned Halifax made the cut. Now she had to convince us Quinpool was the place to paint---over 11 other metro streets. She and her staff shot videos of key retailers talking up the value of Quinpool, everything from its pet friendliness to heavy traffic flow.
It was all for naught. The votes the videos generated were made useless after someone hacked the city's online voting platform. The final decision fell to Benjamin Moore's marketers.
Undeterred, Nicholson's team sent a letter to the company pitching the importance of Quinpool "as a main street with high traffic, the gateway to downtown," she says.
She doesn't know how much Benjamin Moore spent on its campaign. But she says for Quinpool, "it's priceless," given the buzz. She hopes the makeover is just the start, generating more business and inspiring other transformations---like the former St. Pat's high school: "How often does a major corporation help a community like this?"