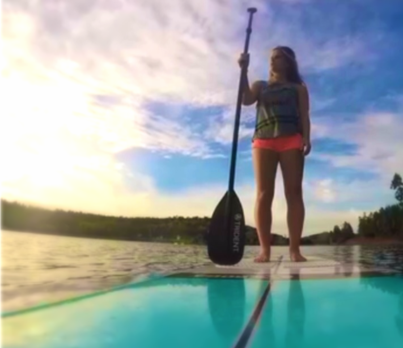 Grace Stolarz wants to SUP with you
"I thought to myself, What would be the coolest job? The kind of job that I would wake up every day and say 'I love my life and I'm so excited to be doing this,'" says Grace Stolarz, a yoga instructor and the owner of SUP Yoga Halifax, which launches its stand-up paddleboards this Thursday on St. Margarets Bay. The combination of growing up on the water and a few years of experience as a yoga instructor lead her to the total best-of-both-worlds-sport, which is well-suited for Halifax's many bodies of water.
"It's a pretty untapped market," she says. "The way the weather has been going, you don't get that much time to be outside, so when you do people just want to be exploring." SUP Yoga Halifax offers one-hour classes in SUP yoga, SUP fitness and SUP basics and provides the board, if you need it, on a drop-in or membership basis. "I make sure it's accessible to all levels," says Stolarz. "Sometimes people come out and they're nervous, but as soon as they get on the board they pick it up." Check out the entire schedule here and remember that pre-registration is required.