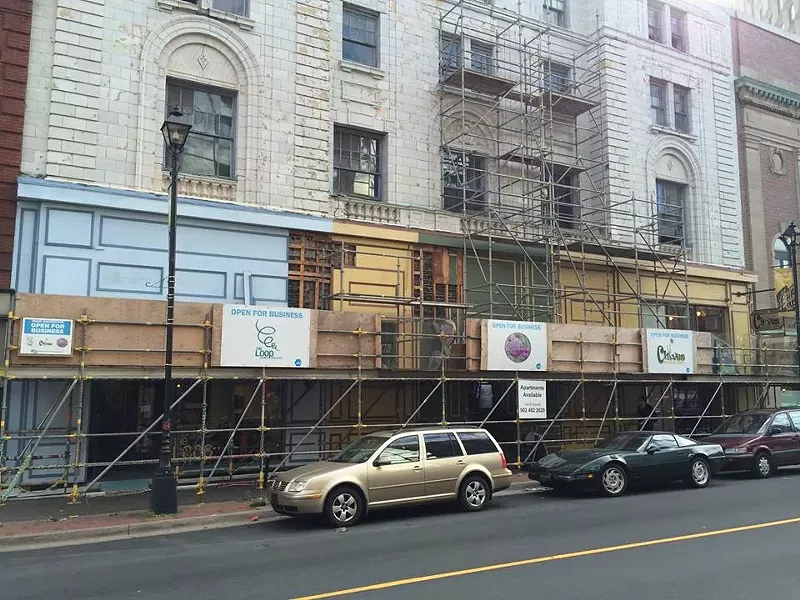 Scaffolding of doom on Barrington Street
It's been nearly a year and a half since the scaffolding of doom on Barrington Street went up above three local businesses—The Loop (1547 Barrington Street), Ciboulette (1541 Barrington) and Chives Canadian Bisto (1537 Barrington)—in November 2014 to catch pieces of the decaying building after one piece in particular went through a driver's windshield.
The scaffolding was a stop-gap solution that only served to block storefronts and impede visitor traffic, resulting in The Loop owner Mimi Fautley's estimation of 15 to 20 percent profit losses. Now, Fautley says there's finally talk of installing an awning instead, but for The Loop that's too little too late—they've already devised a plan to move down the street to the recently vacated Frank & Oak space at 1557 Barrington at the end of March.
Just before the big move, community members have organized a cash mob for The Loop from 12-4pm this Saturday, March 12, to show their appreciation for the yarn shop with an influx of arts-and-crafts-dedicated dough. To take part, just commit to spending at least $10 on anything in the store and you'll get a chance to win some awesome prizes, plus good feels from sending Fautley and co. off in style. "It's absolutely mind-blowingly lovely," says Fautley of the cash mob. "You know, it's really the goodwill demonstrated by just the communication—watching people share it on Facebook and offer donations for door prizes, it's been lovely and touching to see that much goodwill expressed towards the business."