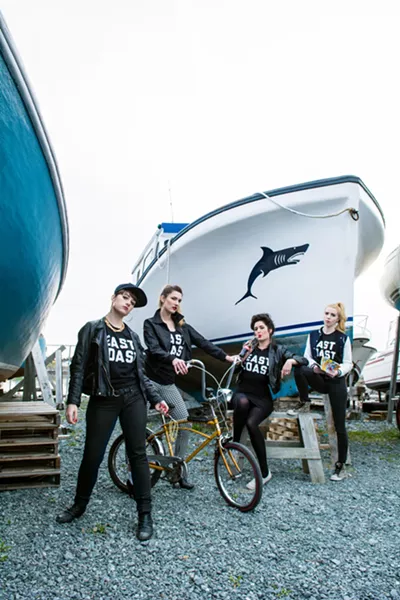 Aaron MacKenzie Fraser
The Girl From Away's East Coast girl gang
Fresh off shooting a fresh-as-hell new girl-gang-inspired lookbook for her online shop, Nadyne Kasta AKA the designer behind The Girl From Away, is cooking up another cool collaboration. With both local entrepreneurs and shoppers in mind, Kasta, the Maritime Makers collective and Big Pony's (2168 Gottingen Street) Lindsay Stewart and Emily Ross have planned an extra special way to enjoy your after-work drinks this weekend—the Happy Hour Makers Market takes over the The Company House (2202 Gottingen Street) tonight from 4 to 8pm, bringing a whole lot of awesome with it.
The free event gathers designers, jewellery-makers, artisans and illustrators—like Pin Action, Mule Mother Books, Taylor Made Embroidery and Barre Fragrance and Skincare—in one, inclusive and booze-friendly local shopping space, and then sweetens the deal further with snacks and drink specials.