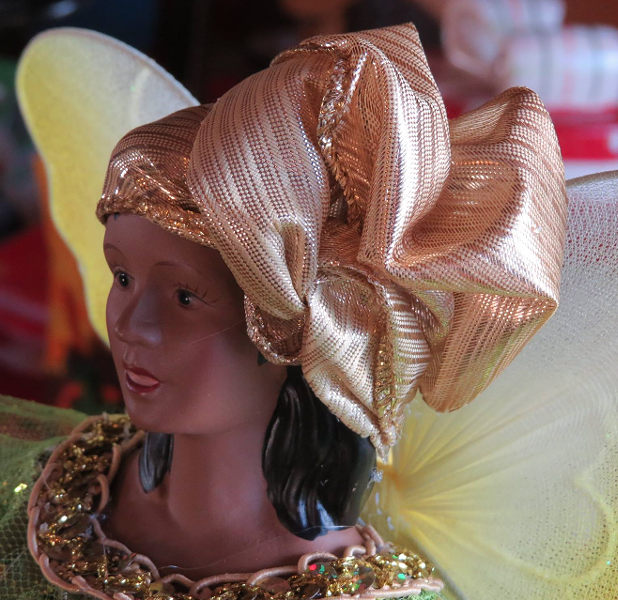 Tracey Jones-Grant wants her home to be decorated with ornaments that reflect her as a person of African descent, but such things can be difficult to find in stores. After seeing the steep prices of Africentric angel tree-toppers online, Jones-Grant decided to create her own and about two years ago, she started making them. She brought them to the annual Africentric conference in Cole Harbour, and the response was positive. "People went nuts," says Jones-Grant. "The room predominately full of people of African descent, they had not been able to get them—black Christmas cards or tree-toppers or anything."
Along with her mother, Joan Jones, she has been working away at the sewing machine ever since making Tracey & Joan's Angels. "We have a significant African Nova Scotian population here," says Jones-Grant. "Plus, we have a significant number of people who just like diversity around them."
She picks up cones and fabric from the fabric store, and since she can't find black doll heads and hands locally, she orders them from the United States and much of her other material, such as glitter and ribbons, comes from the dollar store.
"After an angel is made I leave it to sit for a day, and then I look at it to say: 'OK, what kind of head-wrap does this angel need to complement it?'" she says, adding that each head-wrap is unique. No two angels are ever the same. As Jones-Grant works a full-time job—she's the manager for HRM's diversity and inclusion department—it takes her about three days to finish an angel.
"I enjoy making them because I know each one is going to a place where somebody wants it," she says. This weekend, Jones-Grant is taking part in this weekend's Halifax Crafters' Winter Market with her Africentric angels in tow. She hopes they'll spark a conversation.