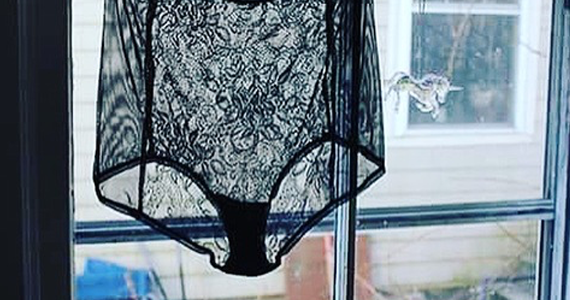 When Katelyn Armstrong's oma taught her to sew as a child, her designs were usually made of satin and as poofy as possible. Despite promises that she would wear these creations, when it came time to get dressed the garments seemed too fancy for her lifestyle.
Today, Armstrong's handmade high waisted underwear line Moon Beam Creek is all about the glam. Luckily, with the discreet nature of underwear—no one can ever accuse wearers of being overdressed.
"I really wanted the underwear for myself," says Armstrong. "It's nice to know you have a secret special pair of underwear and if there are people you want to share that with you can."
Armstrong models most of the designs herself, alongside her cats Linda and Kimber. She calls sizes "arbitrary" and encourages buyers to request personalized designs for a different style or fit.
"I try to make underwear for all bodies, all genders and all folks who want a pair of underwear," says Armstrong. "I want to be conscious of everyone feeling comfortable wearing them."
The line is available at Big Pony (2168 Gottingen Street) or by order from the Moon Beam Creek Instagram. With an Etsy shop just around the corner, Armstrong hopes to expand the brand to include matching bralettes.