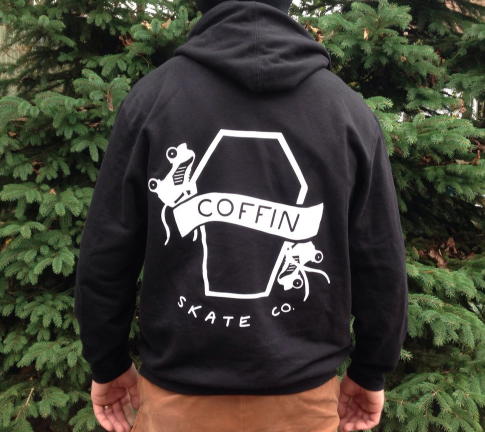 Stephanie Coffin
and
James Parker
opened
Coffin Skate Shop
sort of quietly in September, sharing a space within
Octopus Skates
(5687 West Street) and filling a void in the local roller derby and roller skating scene. You see, the closest skate shop
is
Montreal. Considering roller derby is the fastest growing sport in the world, Coffin says, that makes no sense.
"I've been involved with Anchor City Rollers for six or seven years," says Coffin, who learned the sport, skated competitively and now teaches new skaters with the organization. "The frustration with new skaters is that there's nowhere to try on equipment and ask questions. A lot of them just kind of went online and sometimes ended up buying things that weren't good for roller derby."
She says she heard similar complaints from folks across the Maritimes, and finally decided she had to do something. "I knew there was a need but didn't anticipate the reaction," says Coffin of the buzz that came along with her shop's expansion. Last week, it re-opened at 2456 Agricola, which is double the size of its first
home,
and includes space for indoor skate training. The shop sells skates, padding and gear, on-site servicing and will eventually offer lessons, work-outs and pop-up events (
like,
roller discos!).
The shop
is open Saturdays and Sundays, 12-5pm, and will celebrate its grand opening Saturday, May 5. Coffin hopes to cater to jam skaters, recreational rollers and of course, her derby community.
"The sport built strength and confidence I didn't realize was there" she says. "And improved the relationship I have with my body."