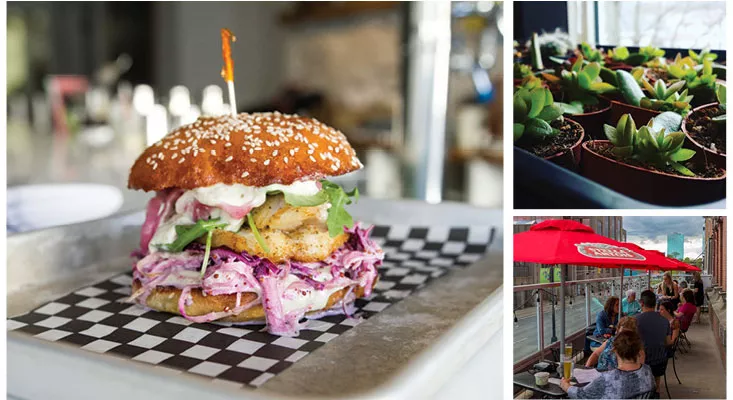 SUBMITTED
Scenes of Downtown Dartmouth, clockwise from above: Taste at The Canteen, grow with Urban Gardens, enjoy the great outdoors.
The ultimate gift-giver
Kept Gifts & Housewares, 75 King Street
Scrambling last minute to get that special someone a gift? Is your mom someone who says she wants nothing but would actually really love something? Kept takes the hassle out of your search by being your one-stop gift shop for the picky present receiver in your life.
Everyone wants to be a good gift-giver, and Kept makes it easy. You can leave it to the last minute and stop in on your way to the birthday party, wedding or special event, because you know they'll have you covered. From the cheeky cards, to the well-designed goodies, right down to the beautiful packaging, they have internationally sourced and locally made products to make your gift-giving effortless. Kept keeps it even easier and offers online shopping in April and May for those who can't make it over the bridge!
You'll walk in for someone else and walk out with a long list of gift-ideas for yourself. Alfter all, their slogan is "Everything you want to give and get."
---
Live more, stress less
Living Lighting Home Decor / Progressive Cabinets and Millwork, 560 Windmill Road
Brighten your day with 10,000 square feet of lighting at Living Lighting. The family operated business has been providing us with all of our lighting needs for 14 years. They continue to handle the "behind the scenes" layout work for us and never fail to provide customers—in Dartmouth and beyond—with recommendations and technical aspects so we don't have any stress added to our lighting projects.
Their fashion-forward showroom keeps up with current trends through an inventory rotation, but always offers clients classic pieces that fit within every space. With 40+ suppliers, and Atlantic Canada's largest selection for residential, commercial and hospitality lighting, you're sure to find something in your style and budget.
Their team adds to the light environment with their lively personalities and passion for the products, which shines through in each project they work on. They're all certified through the American Lighting Association, so you can feel confident knowing that you are dealing with the best.
The same vibrant environment is found with the five professional kitchen designers in Living Lighting's sister store: Progressive Cabinets. They specialize in local, custom cabinetry design and manufacturing, focusing on residential, multi-unit and commercial spaces. From design to installation, they'll be with you through every step of your project.
Leave your confusion at the door, and their staff will pick it up for you–they're determined to make your choosing experience effortless. They'll help you pick a custom design that fits your lifestyle and budget and one that suits the desired look and feel of your space. Stay within your comfort zone or add a current flare to the design features. Your options are endless.
The team is constantly joking with each other and their clients, making you forget you had a choice to make in the first place. Between these two stores, you'll have all of your lighting and kitchen design needs met with ease, and none of the stress.
---
Southern Italy next door
Il Trullo Ristorante, 67 King's Wharf Place
In need of a vacation? Il Trullo brings the feel of southern Italy right to Downtown Dartmouth for you. Sit amongst the natural structure based off a trullo, the unique conical roof found in southern Italy, and let yourself be transported to its home region of Puglia.
Who needs to hop on a plane when you have the clean atmosphere with the view of the water right here? Il Trullo ties the Mediterranean vibe together with light olive-oil based sauces and incorporating local fish into the menu items. With homemade traditional lasagnas and squid ink spaghetti, you're sure to get your Italian fix.
Il Trullo doesn't just use the idea of natural structure, they also incorporate recycled materials to make the interior space sustainable. The owners are passionate about sustainability and have trained their staff on their aggressive recycling and composting program. With its compostable take-away containers instead of plastic, eating at Il Trullo really does mean going back to our natural elements.
---
Flavours of Dartmouth
Downtown Dartmouth Business Commission, 163 Portland Street
Hop on the ferry and take in the entire Dartmouth experience. Stroll down by the harbour, visit quirky retail shops and explore all of the novelty that can be found in the emerging neighbourhoods. With the Downtown area growing into a compact community, you can find something to do no matter what mood you're in.
Tim Rissesco, Executive Director with the Downtown Dartmouth Business Commission, says that "Downtown Dartmouth is home to many of the most celebrated independent shops and restaurants around, and the highlight has to be the growing food and drink sector.
"This scene is growing, and we have some of the best patios in the city. We're even getting two new craft breweries and a cidery this year. It's incredibly exciting," he adds. Already home to so many of our favourite go-to spots, the existing businesses welcome any new members to the Dartmouth family and are excited to share the wealth of downtown.
---
The wait is over
Cheese Curds Gourmet Burgers + Poutinerie / Habaneros Modern Taco Bar, 380 Pleasant Street and 600 Windmill Road
You may see these guys popping up all over the HRM, but that hasn't compromised their loyalty to fresh food. Both Cheese Curds and Habaneros were founded in Nova Scotia and remain imbedded in the community with their made-in-house recipes. The majority of menu items are made from scratch and with just one bite you can taste the difference.
Founded by retired Navy cook Bill Pratt, Cheese Curds and Habaneros appeal to the picky eaters and the foodies. Whether you're a vegan, live with celiac or love your meats, you'll never go hungry as long as they're around. They're always changing up recipes, but they notice what's a hot seller and brought back the original chicken recipe and Bombay Vegan Curry for that reason. Bill always leaves room for the originals in the midst of novelty.
This family owned restaurant knows what works and they're determined to experiment until they've found the perfect taste—their slogan is "It's Worth the Wait" for a reason.
---
Designs through the decades
Retrospekt, 166 Ochterloney Street
Step through Retrospekt's door and travel back in time. Their mid-century modern furniture dates back to the 1950s and each piece has its own story to tell. The house is tailored to the furniture, where each room is created with an authentic feel, so you can visualize exactly where each piece belongs in your own home.
Wander through 1,500 square feet of space on two floors where you'll find sculptured floor lamps and Danish desks in the office, plus sexy bars and sideboards in the kitchen. Retrospekt has a little bit of everything for the collector and novice alike. Their furniture is restored and ready to last another 60 years.
Made by renowned designers and furniture makers of the period, these unique pieces are going to be the talking point of all of your social gatherings. Whether you purchase a new sofa, accent chair, bedroom set or wall unit, you'll be owning a piece of furniture that is authentic, versatile and timeless.
---
A family dream
Seamus David's Pub, 21 Logiealmond Close
Owning her own business is Beverly's dream come true, and it's ours too! Seamus David Pub brings local heart to the Dartmouth Crossing area, and is feeding us home-cooked meals before and after our shopping trips.
Located in an area surrounded by woods makes for a transporting country setting (and an amazing view during the summer patio season). After expanding in October and adding an extra 50 seats, there's plenty of room to host a private gathering, or to bring the entire gang in for their famous home-cooked style shepherd's pie, Guinness Irish stew, and juicy burgers.
Pop by on the weekend to listen to live local talent while you pair your meal with any of the 17 draught choices. Keep an eye out for daily deals served by the best staff around–most of them have been with Beverly from the very start and will treat you like part of the family, too!
---
Sewing community
Seam Work, 60 Queen Street, Unit A
When the space beside Urban Gardens Limited opened up, owner Adrienne knew that the growing Downtown Dartmouth was exactly where she wanted her business to be. Seam Work is a sewing studio with six working sewing machines and a heart for community teaching.
Adrienne has been a quilter for 20 years and shares her acquired knowledge with everyone who walks through the door. In addition to her open studio time, where sewers can come in and rent a machine for $7 an hour, Adrienne offers classes that stretch from beginner level to advanced, and succeeds at appealing to every skill level of sewer and maker.
Adrienne provides everything from scissors and mats to cutters—makers just have to bring their own fabric and she'll provide the rest. Seam Work is a space where like-minded people can gather together to learn and create, and sit with people who speak their same language.
---
A twist on the classic
The Watch That Ends The Night, 15 King's Wharf Place
The Watch that Ends the Night walks the line between restaurant and cocktail bar. With over 200 bottles of premium spirits to create their well-executed cocktails and with their contemporary rotating dinner and brunch menus, it's safe to say that this mid-century destination can do both.
Chef Mark Gray strives to use locally sourced ingredients to bring a multicultural flair to his Canadian contemporary vision and is a wiz with a charcuterie board (he even cures his own meats and seafood on site). On the cocktail side, their bartending team is constantly tweaking recipes to find the best versions of the classics. Try their Old Fashioned or Mai Tai on for size. Original cocktail menus change seasonally to keep it fresh and exciting.
What's more, The Watch contends to be the premier wine destination on the Dartmouth side of the harbour. With 75 seats overlooking the water and Halifax skyline, you can enjoy a mix of adventurous and comforting in all departments.
---
Sprouting near you
Urban Gardens Limited, 60 Queen Street
The Dartmouth community is filled with avid gardeners, and Urban Gardens Limited was created to be the one-stop green shop for all of your horticultural needs. Their knowledgeable team is always ready to hear about your next project and offer you the best advice combined with quality products made from recycled materials.
Their love for tinkering and growing sustainably has inspired a strong background in hydroponics, but rather than specializing in one type of thing, they have their hands in multiple plotting grounds. Urban Gardens offers a wide selection of house plants, mums sprouting seeds, hand and garden tools and both indoor and outdoor gardening supplies.
The retail store keeps it local from start to finish, and has access to greener technology to help take you there. Urban Gardens Limited is passionate about bringing you health from your own backyard, whether it's nutritious and delicious or relaxing and spiritual, they'll help you find wellness through your garden.
---
The change agents
Tara MacDonald Fit Club, 133 Baker Drive, Suite 103
Summer is on its way, and we know what that means? Hiking, swimming and everything else active! It can be tricky to get back into the swing of things, but Tara at Tara MacDonald Fit Club makes it easy and comfortable to get your workout groove back.
They are a personal training club for men and women, and open to all ages and sizes. No matter where you are in your fitness regime, Tara and her team are devoted to helping you make the decision for change—it's what they do!
Customize your workout to suit you, or make some friends in their offered group fitness classes. TRX, Yoga and Zumba are all a perfect combination to help you sweat, stretch and teach you some new dance moves. Tara MacDonald Fit Club is part of the Baker Drive Health & Wellness Group, which includes their club sponsor Soles in Motion, so you have an entire plaza rooting for you to get your health on.
---
It's a whole new bar game
St. Louis Bar & Grill, 547 Portland Street, Penhorn Plaza
Everyone needs a friendly neighbourhood sports bar, and if you don't have your go-to place yet, then St. Louis Bar & Grill is cheering your name. Watch the game alone and meet like-minded fans around you, or bring the entire gang for your Sunday night tradition. It's time you found a new bar routine.
Even if you're not a sports fan and are being dragged out by your friends, there's no better place to be stuck than somewhere with famous garlic dill sauce–perfectly creamy to top your wings or fries. Lucky you, they have specials on 7-days-a-week, so no matter what your craving for bar food will be more than satisfied.
Join them for live music on Saturdays or to cheer on your favourite team. The atmosphere and service will leave you buzzing even if you haven't had a beer, and before you know it, you'll be coming every week.
---
Brunch is just the beginning
The Canteen, 22 Portland Street
Saturdays mornings are meant for brunch, and what better place to start your weekend than at our go-to spot, The Canteen on Portland. This feel-good neighbourhood restaurant is part of the downtown Dartmouth experience. You can't miss it: Just step off the ferry, walk 150 steps from the terminal and you'll spot the vibrant green facade.
This 2017 Best of Halifax awards recipient has won over our hearts (and our stomachs) with classic, locally inspired dishes. Chef Renée Lavallée adds her own twist to familiar dishes such as steak frites, our favourite haddock burger and her award-winning seafood chowder.
The combination of a great selection of craft beers, local wines and top-notch service makes return visits a necessity.
Can't stick around? Their sister restaurant, Little C (located next door), helps you bring The Canteen taste home with you with their take-away dinners, sandwiches, salads and soups.
They're always coming up with something fresh, and we can promise they're cooking up something special for this summer season—stay tuned!