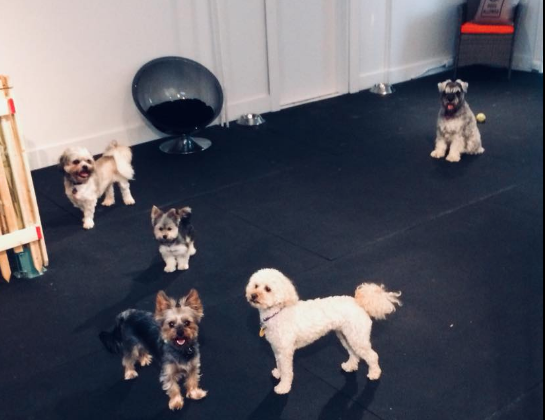 via Facebook
Waggy Wednesday
There's been a pretty quick turnaround in the space that Theatre Nova Scotia's
The Living Room
used to occupy at 2353 Agricola Street. That's because former Isleville Street resident,
Petite Urban Pooch
—doggy daycare for the little pups—has moved in and given the space a new look. The 900 square foot dog playland (and its corresponding backyard) welcomes its daycare dogs back to school this week after a short hiatus during renovations.
With phase one of the move complete, owner
Cindy James
says she wants to focus on the dog-sitting side of the business for the next month before launching PUP's dog lounge near the end of July. The service will be brand new for James, offering bookings in one-hour increments for humans and their little dogs (perfect for socializing puppies who don't necessarily need a sitter) or just dog-loving humans who want to play with a bunch of fur-babies.
"It was born out of the fact Nikki and I are in here with the dogs 10 to 11 hours a day and it's just a blast—it's too good not to share," says James of the stress-busting elements of her job. "We thought, how can we give people access who don't own dogs, or have dogs that don't need 10 hours of daycare?"
When the lounge gets going it'll also offer a small seating area for owners to swing by with their fur friends. Here, there'll be a space to hang out and retail counter offering up handmade treats (in the shape of donairs, tacos and pizza) from Littlest Pet Bakery as well as dog beer—a bone broth based elixir that's all-natural goodness James says her clientele loves
alone,
or drizzled on kibble. Perfect for after a long game of fetch on the Common, perhaps.
Keep an eye on
PUP's Facebook
for updates.