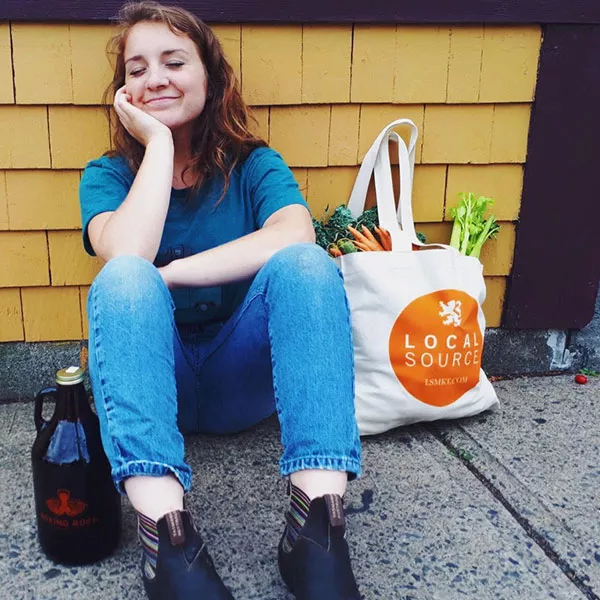 Blue Collar Experience
Once you step foot into Blue Collar Barbershop, you'll never look back. Their professional cuts look exactly like what you came in looking for. You'll stop in for a cut, but you'll keep coming back for their welcoming vibe.
Located across from the YMCA on the ground floor of the VELO apartments, Blue Collar Barbershop is where all are welcome to come in, hang out, drink some coffee and get a cool barber-styled haircut. They specialize in fades, tapers, beard trims, hot-towel shaves and classic-style haircuts.
They carry a variety of high-quality grooming products, so even when you leave, you can achieve the blue collar style at home. They leave you looking fresh, and they make sure you keep up the style even when you're gone. Book online, call for an appointment at 902-407-5585 or try your luck at walking in. Get there however you please, because you won't want to take the risk of missing out on the best cut in the HRM.
Blue Collar Barbershop
2300 Gottingen Street
Local Love
The cool weather is here and that means reconnecting with our favourite bar. We can't help but gravitate towards The Local for trivia on Mondays, jazz nights on Wednesdays or to listen to some tunes on a Sunday afternoon. Nothing says autumn like grabbing a pint of a local brew with an afternoon of pool, ping pong or shuffleboard.
Let the relaxing atmosphere invite you over for their signature pizza and daytime fun with friends, and then come back downstairs to The Seahorse Tavern to let loose and unwind from your long week. Their stage is home to our classic Halifax bands, and you know they'll throw a new artist into the mix. We can always count on them to have the next big lineup we were looking for.
Get your dance on during any regular night or stop by for one of their theme nights. Who could say no to Retro Night's '80s-style neon colours and big, messy hair? The best memories are made right at The Seahorse.
The Local / The Seahorse Tavern
2037 Gottingen Street
Accessible Artwork
Owning art doesn't have to feel unattainable, or even break the bank. Studio 14 Gifts & Gallery brings Maritime artists to life, and all for a price that suits you.
Studio 14 has been promoting Nova Scotian art for seven years, and provides the community with custom framing and accessible art reproductions that start at $20. You can easily take home the folk-art style of Maud Lewis with small journals, Mi'kmaq artist Allen Syliboy's work showcasing water and whales, or a piece by realist painter Alex Colville.
These Maritime artists have been inspired by their surroundings and have painted images for us to admire for years to come. The three artists represent different time periods and art styles that will suit any home's taste, and their work even comes in calendar form.
From books to journals to Christmas ornaments varying from $10 to $30, Studio 14 has lovely gifts for the art lover in your life.
Studio 14 Gifts & Gallery
2393 Agricola Street
Tapped In
Open any fridge in Halifax and you'll likely spot a case of Propeller Brewing Company's IPA or Pilsener. It's because they know what we like to relax with at home, including their new craft cocktail "Perfect Storm" that you can find in their Gottingen Street retail store.
But take the comfort of having a beer at home, and pair it with the enjoyment of being around other humans at the Propeller Tasting Room. Drop in with friends or chat with the staff and learn more about the full range of beer. There's nothing that brings people together like a crisp pint.
See where the magic happens by booking a brewery tour for team-building events or bachelor(ette) parties, and then come back ready to try all of the flavours with their flights of four. It wouldn't be fall without their spiced Pumpkin Ale on the menu, and the Nocturne Black IPA helps support the Nocturne: Art at Night event. You won't want to miss out on these seasonal flavours!
Propeller Brewing Company
2015 Gottingen Street
Pharma-saving us from colds
Cold and flu season may be ahead of us, but luckily Pharmasave North End makes it their mission to keep you healthy. Don't let the flu disrupt cozy time with your family or prevent you from going out and enjoying your day. Pick up your prescription or find a vitamin recommendation to keep your immune system boosted, and kick that cold to the curb.
Feeling unsure about what you're taking? Pharmasave pharmacists will be there to offer their best advice. Their team is knowledgeable and trustworthy. You'll know you can count on them to take their time to listen to your wants and needs in terms of health. Even when your doctor is busy, there's space for you at Pharmasave.
Your cold may come at an inconvenient time, but that's never a problem for their team. Pharmasave is built on local people helping their local community get healthy, no matter when it hits you.
Flu shots are coming soon! Call your Pharmasave North End pharmacy team to ask about the clinic schedule and book your appointment.
Pharmasave North End
3530 Novalea Drive
Picked Fresh
Take a bite and experience the freshness that only comes from buying food from surrounding land. With produce picked and harvested from farms around Nova Scotia, when you shop at Local Source Market, it's like shopping in your own backyard.
Plan tonight's supper around what's in season. Picture starting your meal off with a cheese platter filled with a wide selection of gourmet cheeses from Nova Scotia and Quebec. Then, become tempted by the smell of this green grocer's made-from-scratch bakery. Even with so many breads to pair, you know you can never go wrong with their famous Molasses Seed Bread.
The cherry on top of your meal prep for the night is Local Source's new Boxing Rock growler fill station. Nothing says Nova Scotia like local craft beer.
Local Source makes planning your evening or your next event easy. They can cater all of this green goodness, and more, to any gathering. Harness your urban locavore!
Local Source Market
2530 Agricola Street
Genuine Gold
Walking through the aisles of any chain store, you'll find bottles of oil awash in fake and adulterated olive oils. Genuine oils are hard to find, but you'll know it when you taste it. Liquid Gold Tasting Bar & All Things Olive is built on a commitment to genuine extra virgin olive oil (EVOO), and trust us, you'll be able to tell the difference.
In staking their reputation on genuine, Liquid Gold serves only the world's freshest EVOO from anywhere in the world where olives are grown and crushed—not only Greece, Spain or Italy. Browse and taste the full selection at Liquid Gold's Hydrostone Market store.
Liquid Gold's white and dark balsamic vinegars are produced in northern Italy and make the perfect companion to their EVOO. Tasting your EVOO of choice before purchasing is key, and that's why nothing at Liquid Gold is pre-bottled.
There are two reasons to choose an EVOO: for the taste of it, and for the health benefits of consuming it. You will spot the difference immediately in freshness and in the unmistakable sparkle, feel and true taste of genuine Liquid Gold.
Liquid Gold Tasting Bar & All Things Olive
5525 Young Street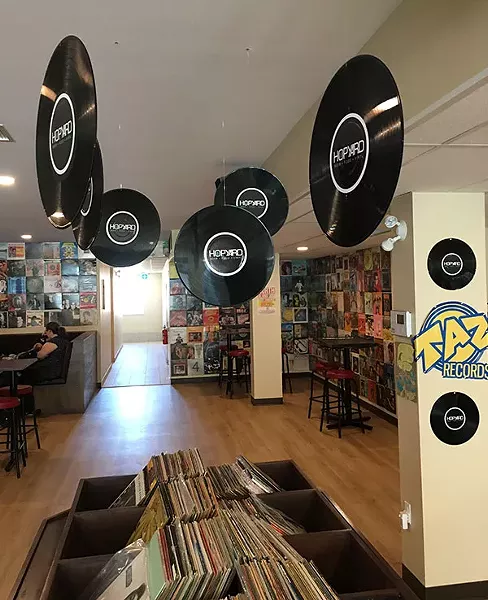 Hop Over to Hopyard
Beer. Food. Vinyl. What more could we need? Hopyard Beer Bar took the best of the north end, and just added to it. Gottingen was already filled with amazing options for food, drink and music, and we couldn't be happier to see another perfect fit find its home here.
Hopyard offers 10 taps that are rotating every two weeks, so you're always ahead of the game in terms of independent craft breweries. Their food menu is ever changing as well, with the last few being Italian and then Asian-inspired. Up next, you can try a Southern Comfort-themed meal that you won't want to miss.
Hopyard keeps things exciting but is never too out of your comfort zone. It has an inviting vibe where you can come chill alone, or stop by with your group to try a little flair of everything. Sift through 700+ records, pick your favourite tune and relax with whatever makes you comfortable.
Hopyard Beer Bar
2103 Gottingen Street
Healthy Body, Healthy Mind
Often, we don't take care of ourselves as much as we could. But Elizabeth Heffelfinger at Halifax Acupuncture can help you do that.
Do you have back, hip and neck pain from too much time at the computer? Is your stressful workload creating anxiety, or digestive problems? Students, are you studying for extended periods of time, resulting in endless worrying and sleepless nights? These issues, and many more, can all be helped with acupuncture treatments from an experienced, fully trained and licensed Chinese Medicine Acupuncturist.
Elizabeth Heffelfinger at Halifax Acupuncture will work one-on-one with you to discover the causes of your issues and to help you reclaim health and balance.
If you've ever wanted to try acupuncture, now is the time to do it. Go to halifaxacupuncture.com, or call/text 902-240-9959 for an appointment. Experience your innate balance and live the best life possible.
Halifax Acupuncture,
5663 Cornwallis Street, Suite 305
Home-cooked Deli
The smell, the taste, the family feel—with one bite, you'll be transported back to your mother's kitchen. Hali Deli is a place where food meets nostalgia, and where you'll feel right at home.
With comfort and ease at the forefront of the deli, the hardest decision you'll have to make is between all of their delectable dishes. Inspired by the simplicity of food from Eastern Europe, Lithuania, Russia and Hungary, the food is anything but plain. The tangy flavours mixed with sweet in their cabbage rolls, the warm matzo ball soup or signature smoked meat eggs benny are enough to get you hooked.
Have a seat, and enjoy meals made from scratch. It's like eating at home (only the food is better!). Coming into the deli is being a part of north end Halifax history, and if it's not part of your routine yet, it will be now.
Hali Deli
2389 Agricola Street
Fog Up Your Goggles
Heading down Gottingen, you'll spot their signature goggles first. And then you won't be able to resist stopping for their featured menu items displayed. The Foggy Goggle is always serving up something delicious and putting a fresh spin on our favourite dishes. Join in on the laughter and fun radiating from this neighbourhood pub, welcoming you in for your next local meal.
Their friendly and warm atmosphere is one way to get cozy and comfortable, and starting off your day with their brunch menu is another. Available 9am-3pm on Saturdays and Sundays, brunch-lovers will rejoice in their vegetarian huevos rancheros, which can be made vegan, and gluten-free options like the banana bread French toast.
Halifax's historic north end is complete in having The Foggy Goggle around, especially when we're craving their late-night eats. Settle into their space with one of 14 beers on tap, spirits and delicious locally sourced food.
The Foggy Goggle
2057 Gottingen Street
Crisp, Cool, Creamy
Cool weather never stopped us from craving a small scoop, and it shouldn't stop you either. Throw on a scarf, make the trek to Cornwallis Street and live a little. Dee Dee's Ice Cream isn't just a seasonal treat, we're making it a staple no matter what the conditions say.
Using local milk and cream, organic cane sugar, and only the real stuff when it comes to fruits and nuts, you're practically eating healthy! Protein? Calcium? That checks out in our book. And could we even resist Dee Dee's seasonal flavours like Pumpkin Spice? It's autumn! Which means pumpkin spice flows through our veins, and should definitely be consumed in ice cream form.
Pumpkin, scarves and toques aside, Dee Dee's carries some amazing flavours like Mexican Chocolate for those who like a kick, or dairy-free sorbets for our vegan friends. Always check in for new flavours or stay on the cozy side with one of their lattes or filling burritos.
Dee Dee's Ice Cream
5667 Cornwallis Street The Road to Health
Instead of searching for a quick fix, why not heal the aches you're having? Agricola Holistic Health raises the bar in terms of healthcare, and takes a whole new approach to health in Halifax. Their individualized and holistic approach to healthcare ensures that no matter what your needs are, they'll be met with the best treatment possible for your whole body.
The clinic has been open for close to four and a half years, and is soon rebranding to Agricola Health + Wellness to capture the true essence of what they do for the health of their community.
Each and every person who walks through their doors receives the best service and care, whether that includes massage therapy, physiotherapy and pelvic floor physiotherapy, chiropractic, acupuncture, naturopathic medicine or nutrition services.
Don't be afraid to ask questions! Their team is waiting to work with you to optimize your performance and guide you back to your overall health and wellbeing.
Agricola Holistic Health / Agricola Health + Wellness
5689 Cunard Street
The First Rule about 30 Minute Club
Are you ready to become a HITTER?
Looking to make the next move on your exciting journey of health, empowerment and happiness? Give 30 Minute Hit a half hour of your time, and you'll enjoy a fun, intense, full body cardio workout.
30 Minute Hit is designed to accommodate the busy lives of modern-day women. This dynamic circuit consists of techniques taken from boxing, kickboxing, self-defence and core stability training. Research says this kind of kickboxing circuit is one of the most effective cardiovascular workouts, and who are we to argue with the facts?
Don't worry if you're new to the game, a trainer is there to help you all the way. You'll be sweating it out during two-minute interval circuits, and when you're not hitting the bags, you'll be working on core stability exercises.
Squeeze in that 30 minutes of exercise three times per week, have some fun, and get your health back on track. Book your free trial online today at 30minutehit.com and start your own 30 Minute Hit journey!
30 Minute Hit Halifax
5651 Hennessey Street, Suite 2