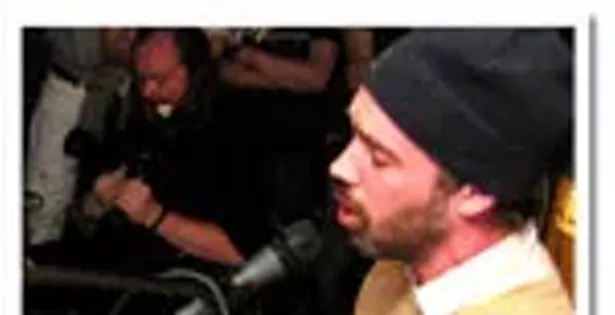 photo Tara Lee Witchen

City Field with "Secret Guest"
December 3 at The Pavilion
The '60s rumpus-room-party vibe, complete with gumballs, balloons and tambourines, began with the dapper lads in The Stance — love those Gordon Gano-like vocals! — and The Porcelain Gods. Admission to this party included a "secret" appearance by Buck 65. Sitting cozy in a toque and tan sweater with brown elbow patches, Old Man Terfry slumped over the turntable in his lap, and with CD player and notebook at his side, proceeded to tell his tales. He mixed in the hits ("463," "Wicked and Weird") with a revamped "The Centaur" and a piece he'd recently collaborated on with Death From Above 1979. Feeling safe in front of the "hometown" crowd, he allowed a few new tracks to make their debut. After a good long set and conscious of the venue's time constraints, he asked headliners City Field if he should wrap it up. Being the fab party hosts that they are, they graciously insisted he play longer, and then kept him onstage for their first song before seamlessly flowing into their own sweet, sweet set.