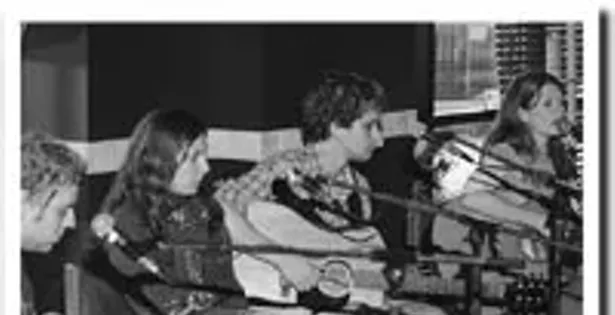 photo David Cieplinski

Songwriter's Circle
September 17 at Hamachi Steakhouse.
Because of the threatening forecast Halifax was experiencing due to Ophelia, Ruth Minnikin, Dale Murray, Norma MacDonald and Nathan Wiley's Songwriter's Circle was moved from outside into Hamachi Steakhouse at Bishop's Landing. The restaurant provided an intimate setting for the acoustic quartet, while the wall-sized window provided a backdrop of the thickening fog hovering over the harbour. The weather paled in comparison to the moody melodies being strummed through these folk singers' guitars.

Murray, MacDonald and Minnikin have made guest appearances on each other's albums and knew each other's songs. PEI native Wiley was left to hold his own with "Bottom Dollar Baby," "Hi Low," "Home," "Black Bones" and "Patiently Blue": "'Patiently Blue' is basically about being a miserable bastard, in a nice way." MacDonald mused about longing, love and aimlessly wandering Boston. Minnikin and Murray grew nostalgic about their days living together across the bridge. Overall it was the best way to spend a dreary Saturday and a good excuse for an afternoon beer.