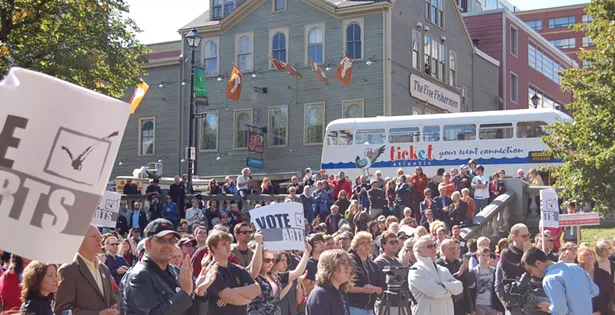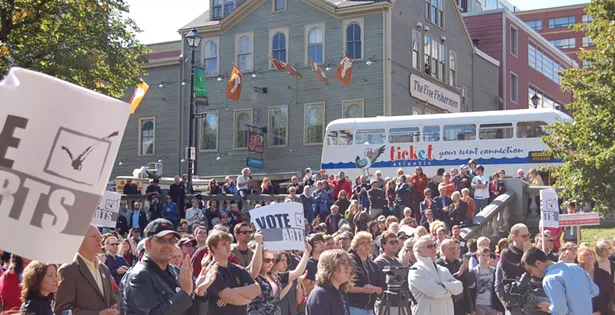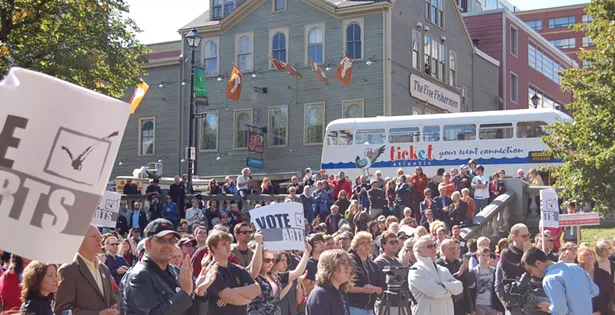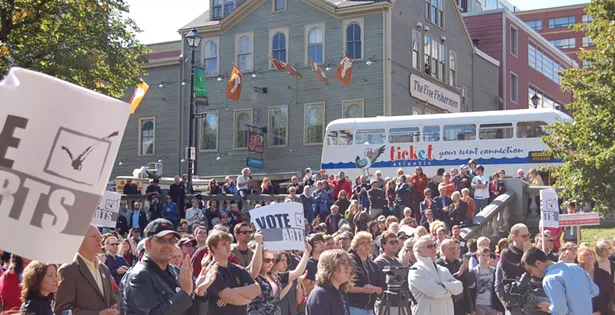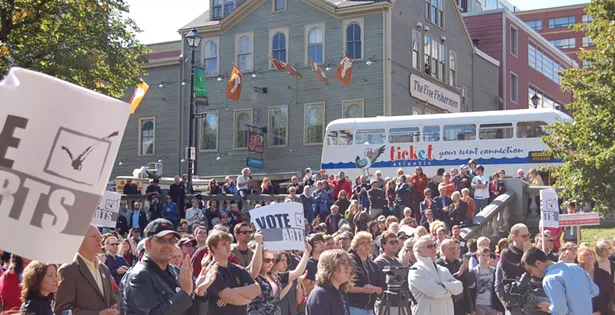 As much as the arts are about public expression and audience, creation can be a lonely job too, and it's not often that I see people that I know in the dance, theatre, visual arts, writing and film community all in one place. So thanks to Stephen Harper for today's Grand Parade meeting of hundreds, and for making the role of arts a national concern, and for pulling it out of the cobwebs of "special interest" groups. Wow.
The theme of today's rally was simple: "Vote Arts," but there are no easy solutions or right answers, which made the event seem a little strange at times. Vote Arts basically means not Harper, I guess, but given the fact that there is also a municipal election coming up too, I wish someone had addressed the lack of support on a municipal level, as well. I spotted Dawn Sloane, who will be debating her district 12 rivals tonight at NSCAD's Bell Auditorium, at 6pm. Still, you can't help but be filled with pride to be in the midst of people who have given their lives (and get paid shitacularly) to produce art that people might never see or respect, and yet are still so passionate about the cause.
After the rally, which included speakers from all disciplines and unions (the messages did overlap quite a bit, and occasionally go too long, but there were moments of humour, real anger, frustration and hurt that their prime minister does not respect what they do for a living), I spoke to some of the Dalhousie theatre students who came down with their prof to protest. Even after hearing successful playwright Charlie Rhindress talk about how he made $16,000 last year, they seemed prepared for the fight ahead.
Glynis Humphrey, who won the Lieutenant Governor of Nova Scotia Masterworks Arts Award 2007, just got back from installing her winning Breathing Under Water exhibition at the UofT Scarborough campus, and was thrilled with the reception it received there, with students coming in every day and returning with friends. She asked the gallery director why this seemed so different than other university galleries, and it was explained to her that because the majority of the campus are first-generation Canadians, they have a much different attitude towards the arts. They haven't learned that it's something to be scared of, or that it's not for "ordinary people."
If you look on the back of the $20, there's a quote from writer Gabrielle Roy: "Could we ever know each other in the slightest without the arts?" That's legal tender, baby.