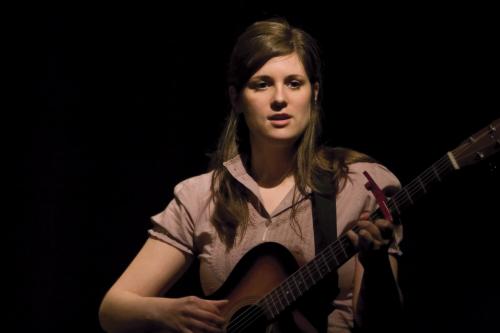 One of the women Jill Barber shouted out in her ECMA acceptance speech on Sunday night was Meaghan Smith, who's out with Stuart MacLean's Vinyl Cafe Tour, along with ECMA winner Matt Andersen. She phoned us from a parking lot in Port Hawkesbury.
"It's one of the funnest shows, I think, if I was going to see the show it would be what I want to see," she says. "Stuart reads a story and then Matt comes on and plays, and then Stuart reads another story and I come on and play, Stuart and I do a duet. Stuart does a slide show. There's a nice finale number. The show goes by really fast, I find, and it's constantly changing."
Also constantly changing is the release date of Smith's major label debut, The Cricket's Orchestra. An EP, The Cricket's Quartet, was released last fall by Sire (read all about it here) with the LP scheduled close behind, but it hasn't happened that way.
"My A&R guy quit and that's usually bad news for an artist if no one else at the label cares about them," says Smith. "Luckily the new president of Sire really digs what I'm doing and is keen to work with me. He just has a different approach with how to release the album."
After she moves into her new Halifax area home with husband Jason Mingo, Smith will head to LA to work on a few tracks with Greg Kurstin of The Bird and the Bee, who helmed Lily Allen's latest. "My A&R guy would like me to try recording a couple new tracks and see if they'd work on the album. Which I'm not opposed to, because this record is two years old. If I'm going to put this record out now and tour it for two years, I need something fresh. I'm really excited about that, because I'm a big fan."
The record's new release date is "before or by June." But before that: "I'm going on tour with kd lang!"
In other news, Smith's "Five More Minutes" got major placement in a late-season Grey's Anatomy last May, and she'll follow it up March 10 when the non-EP track "A Piece for You" appears in an episode of One Tree Hill, her second time with that series.
"I don't even have a record out and I've had three placements," she marvels. "And there's more in the works."
The Vinyl Cafe tour ends with a five-show stand at the Rebecca Cohn from March 8 to 11. Buy tickets here.