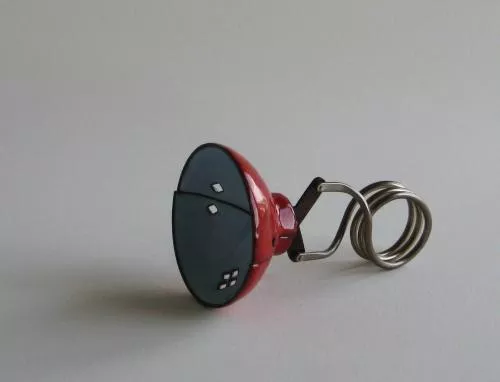 More Ring, 2008. Copper, enamel, nickel silver, silver.
Berkeley Brown
's jewellery makes me want to bake a cake. Her NSCAD graduation exhibition, Whisked Away, which opened October 26 at Anna Leonowens Gallery, combines the warmth of grandma's kitchen with the technical expertise of a master baker.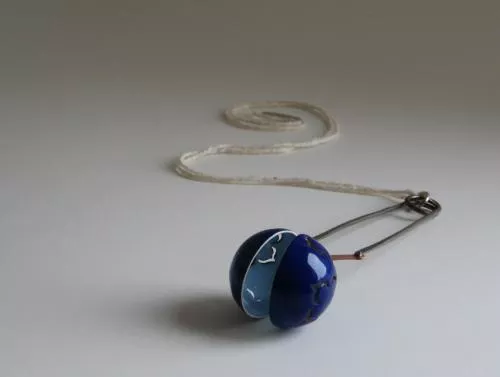 Decorative Comfort. Tea infuser locket, 2008. Copper, enamel, nickel silver, silver
Predominantly designed with silver and enamel, Brown takes the shapes of tea infuser balls and turns them into precious lockets. "Flipping Pancakes," a pendant shaped like a spatula, comes apart to reveal her father's pancake recipe. Bottomless appetites will be satisfied with "More Ring," which opens and closes thanks to a spring on the ring band. While some pieces play with the idea of our insatiable consumerism, some of Brown's pieces embrace the traditions and nurturing aspects of food preparation, like her whisk pendant and ring, which incorporate snippets of food writings like preciously guarded family recipes.
We asked Brown a few questions about her show:
Your jewellery seems to recall the very simple joy of food, and be very much about personal tradition. Was that an inspiration—to try and return to simple values?
Yes, I am inspired by the simple joy that one can get from cooking and eating a delicious meal. Making jewellery about this inevitably brings up any other issues that people may have regarding food, but I believe that it still is very relevant as a pleasurable aspect of ones life. For me a good meal, or just a break in my day for tea and a cookie, can make my day. In my life food has always been a delight; something to look forward to, a base for social gatherings, and a comfort, so I can't help but approach it in this way.

Are you a big cook? What do you like to make?
I love to bake. I have a sweet tooth and I've found in recent years that baking not only satisfies this but is often a comfort. I now bake when I am bored, depressed, inspired or if I want to make something with my hands aside from jewellery.

Do you see connections between the precision required for say, baking and jewellery making?
Yes, I think that part of the reason that I am drawn to baking is because it is another way to be creative and precise. So it makes sense to me to blend these two things that I enjoy so much.

Some of your work includes food writings—where do you get these from?
My inspiration (aside from my personal experience) comes from food writers such as M.F.K. Fisher and Calvin Trillin as well as the plethora of food blogs. I began by quoting directly from food blogs and incorporating these quotes into my pieces (I contacted a few blog writers and asked for their permission) but have more recently been using my own writing. I am inspired by the way, in these writings, passion for food becomes a base for personal narratives.

Whisked Away. Pendant, 2009. Silver, paper, silk cord.
Get your fill of Whisked Away before it closes on October 31.