The 2010 edition of the Halifax Jazz Festival melted away - almost literally - yesterday, ending more than a week of diverse and mostly enjoyable downtown sound. International and local artists alike stretched, and in some cases ignored entirely, the boundaries of the jazz genre, busting out everything from hip hop beats to tuba-powered Middle Eastern metal.
But the first part of yesterday afternoon's lineup at the Festival Tent threw some bones to those of a more purist bent. And whether they were purists or not, there were a surprising number of people there to hear it, which resulted in long ice cream lines and a premium on the shaded seats under the tent.
First up was some big band swing, courtesy of the Annapolis Valley's Big Valley Swing Orchestra and the Chebucto Big Band. I missed Big Valley but caught most of the Chebucto set, a light, family-friendly affair that gave those folks with swing moves a chance to show them off.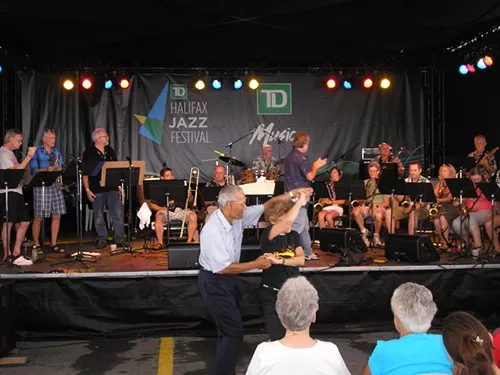 After a week of watching professionals play the stage, the ragged charm of the not-for-profit Chebucto band was a nice contrast. Which is not to say the music wasn't up to snuff, simply that, with band director Dave James forgetting or repeating member introductions and song titles, there was a loose, relaxed vibe to the set. For the band, as well as the audience, spirit was more important than perfection.
The same attitude coloured the wonderfully weird show put on by the students in Jerry Granelli's Creative Music Workshop later in the afternoon. Granelli's week-long workshop emphasizes improvisation and making music out of unlikely sounds, and the different ensembles that CMW trotted out onstage certainly made a variety of them. The opening tune began with an a cappella session wherein members sang and barked out seemingly random noises, before flowing into one member's bluesy guitar solo.
CMW students sing, bark and yelp it out
Clarinetist Joudrey Kels, who's been coming to CMW for six years, said the improvisational approach of the workshop creates artists whose understanding of music goes beyond technical proficiency.
"It's basically teaching us how to play music and just try to feel it, to be honest to ourselves about it and not play with fear," said Kels. "They really push us out of our comfort zone."
Other songs in the set included a number comprised exclusively of 11 guitars and several more tunes that blended traditional jazz sound with spoken-word vocals, soulful singing and instrumental adventure. As odd as it was, the CMW show was also fascinating, something that dared you to take your eyes and ears off of it.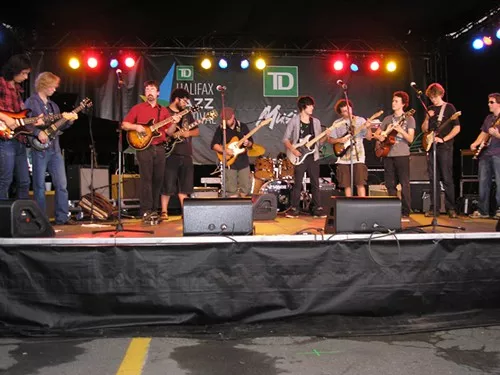 This tune could use some more guitar
Granelli, for his part, was thrilled to see his charges at work. And though he told the audience more than once that the students would likely be anxious, he later told me he was the worried one.
"I'm more nervous (than the students)," he said. "But it's really wonderful, because they've worked hard, seven hours a day, just taking these fantastic risks."
Afro Musica and Salsa Picante closed down the festival later last night, delivering the final performances ever at the Festival Tent's Spring Garden and Queen location. The tent will be somewhere else next year - hopefully a spot that's equally central and accessible - which means the 25th Jazz Fest will have a bit of a different look.
And no doubt the variety of sounds will also be different. Sure, this year's festival wasn't all jazz, but there was an awful lot of plain good music. Like it or not, the Jazz Fest is better off not trying to fit into a genre box.
Finally, a parting image from the weird mural thing sponsor TD Bank set up at the tent site for people to colour in. What. The. Fuck.
You got a problem, Jazz Deer?