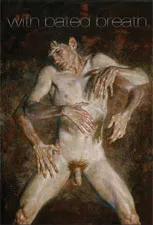 "If Tennessee Williams were from the Maritimes and writing today, he'd sound a lot like Bryden MacDonald."
How fitting is it, in light of this quote from The Toronto Star, that MacDonald's With Bated Breath should follow Daniel MacIvor's play about Williams at Plutominium's Cold Readings Series?
The series is an amazing chance to get a look at some great Canadian plays that have not (yet) graced Halifax stages.
They are readings, so the sets, costumes, props, lighting etc are minimal to non-existent, but it's amazing how wonderful actors can bring a work to life.
The final night of THE COLD READINGS at Plutonium Playhouse is That's Happiness by Nate Crawford. It Featuring Hugo Dann, Margaret Muriel Legere, Mike McLeod, Marlane O'Brien, and Vanessa Walton-Bone.

Tickets $10 / $8 phone 423-4653 to reserve.