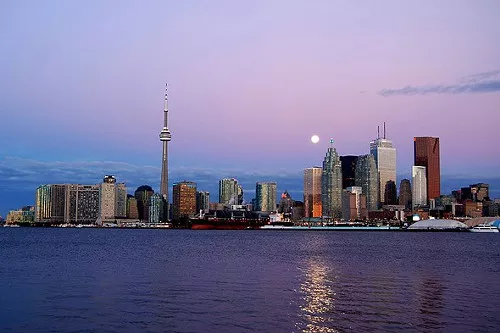 This skyline crushes dreams
"The road to success is not paved with festival laminates," writes Fucked Up's Mike Haliechuk in this week's issue of The Grid, which I read on the subway in from the airport, before I was inundated with Canadian Music Week (officially known as "Slacker Canadian Music Festival," but no one called it that). Haliechuk writes of the festival model, and how it makes young bands believe record deals will fall out of a taco truck at 4am, when in reality festivals are loaded with already buzz-heavy headliners, making "losers out of the hundreds of showcasing bands, who underwrite the process by paying registration fees and providing music free of charge, only to walk away with nothing."
I've been thinking about this since last June, when my band played North by Northeast at 8pm on a Saturday in a cavernous goth club on Queen Street, the audience consisting of our Halifax ex-pat friends, other locals in town for NXNE and Pop Explosion staff. It numbered about 25. (I was at CMW as media, not to play.)
I thought about it again when I climbed the stairs above Sneaky Dee's on Friday afternoon just before 2pm, where the East Coast Music Association was hosting a free showcase. I saw Mo Kenney play to about a dozen people, every single one from Nova Scotia, and a few more showed up for Molly Thomason, and then I left in a fit of simmering rage, so maybe 200 people appeared later, but I very much doubt it.
All of the people in that room had other shows during the festival—The Motorleague, Gloryhound and Carleton Stone were also on the bill—so it's not like they dragged their bands to Toronto just to play for people they know. But the whole point of a festival like CMW is to get you in front of new eyes. Important eyes, ideally, but eyes you will impress and eyes that will look upon you when you next return. So when the ECMA decides it is going to spend money on an east coast showcase—probably with government funding—and it's going to do it early on a weekday, during which there is an industry conference, then it is up to the ECMA and the organizers—not the artists, their job is to play—to work those contacts and get people in the room(s).
OR build a better show.
OR pull in a buzz band from somewhere, anywhere, to get people down.
OR, how about? Not do it at all.
Throwing a bunch of parties for ourselves in another city with fingers crossed is a waste of resources that borders on insulting. But: Cut to Saturday evening's Music Nova Scotia stage, where The Carleton's Mike Campbell has long hosted a showcase at The Rivoli. The difference between the two events was metaphorically and literally night and day—I walked in barely after six, and Ron Sexsmith was sitting in the front watching bands. (It wasn't perfect, what with the stereotypical mussel buffet, which beyond being an allergen buffet also made the room smell terrible.) There were bookers, label reps, members of Sloan. Sure, most everyone yammered through Ben Caplan, Ria Mae, Mike O'Neill et al, but some people also stood at the front and sang along. Ex-Haligonian Allison Outhit—of Rebecca West, Exclaim and being vice-president of operations at FACTOR fame—pulled a chair out for O'Neill and sat by herself, focused.
No matter my particular industry (or seafood) feelings, it was a perfect confluence of time, place and contacts. Kenney and Thomason played that stage too. That showcase makes all the sense in a behemoth event like CMW.
In other sense-making moves, both Wintersleep and Jenn Grant have new records in the distance (May and July, respectively). Grant played seven new songs (mostly mid-tempo pop earworms) at the Mod Club on Thursday night, and was unfortunately bogged down by a bad sound mix (I am told all the sound people at CMW are volunteers—are you fucking kidding me?!). The mostly female crowd didn't notice, and belted out all her old hits once she started sprinkling them in. Wintersleep packed the Horseshoe to capacity plus an hour-long line on Saturday, and similarly debuted a lot of new stuff (dreamy, spacey, keyboardy, really beautiful), and similarly elicted delirious reaction to the classics. These were crowds that came out because they already knew the artists, and loved them, and wanted to see them play because they were here, not because this festival (or a blog) told them to.
But I am not immune to or above buzz: On Friday I parked myself at Lee's Palace good and early for Cleveland's Cloud Nothings, who have just broken through on their third record. They remind me of the 90s, and also Titus Andronicus (depressing screaming refrains include "I thought I would be more than this" and "No future, no past"), and holy fuck did they GIVE IT, tearing through the bulk of Attack on Memory with sweaty ferocity. Afterward, as I stood at the empty merch table waiting for the exhausted bassist to make his way up, thinking about how I hadn't heard the words "agent," "showcase" or "industry" in 45 minutes, the man in front of me yelled to no one in particular "I LOVE ROCK AND ROLL, MAN. I LOVE IT IN THE FACE!"
That is why you play a festival, to capitalize on the work you've already done, to set these towns up for when you come through for real. Not to say "I played five sets," when most of those sets were to bar staff. Not to put it on a grant application for some other festival. Not to spend hundreds on flights and gas and hotels. Not to waste CDs (and embarrass yourself) by leaving them on the tables at your showcase venue. Not to cram into a hotel room with a complimentary Steamwhistle and your sunglasses on. Not to piss away money on drinks for "VIPs" who forget your name while they're drinking that free drink.
But what do I know—my band didn't even get into CMW, so I'll go back to Haliechuk for the final word:
"In this (micro) generation where musicians can transition from home recording to touring in a matter of months, if they catch a buzz on the internet, the notion of a music festival where bands are made to jump through the hoops of showcasing their talents for 'the industry' is as antiquated as the idea that this is really how the music industry works anymore," he writes. "As The Weeknd and Purity Ring (both Canadian acts who broke out in 2011) illustrate, bands can court labels and fans before they even play a show—the importance of the showcase has given way to Soundcloud pages and traded MP3s."